I must have got the new blogger syndrome. I woke up at 5:30am this morning thinking about what blog post I should write today.
With a very demanding full-time job, two small kids, and a busy husband, I have no idea why I put other responsibilities/routines on my plate. I just know I feel happy when I am done with a post. I feel excited when I see a comment. I smirk in work meetings when I see the site traffic increases. Rationality never takes priority when we are talking about feelings.
For 2014, I budgeted $9000 for clothing items and we end up spending $8946.98. The chart below shows a distribution of the spending: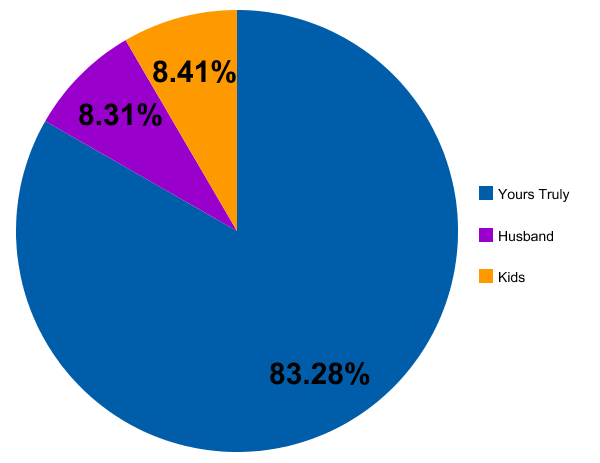 Dear husband's spending is probably underestimated, as he often buys his own clothing and occasionally uses a different credit card that I don't really manage.  Still, I shamelessly spent significantly more on myself. Well, I guess this is one of the perks for the budgeting person of the house.
I will focus on my purchases below:
By items:
Chanel Timeless Kisslock Clutch: $1,900
Mulberry Crossbody Lily Bag: $804
A Diamond/White Gold Ring Band: $510.45
An Hermes Scarf: $399
Stuart Weitzman Chicboot: $312.75
Other clothing and shoes: $3,319.03
By stores: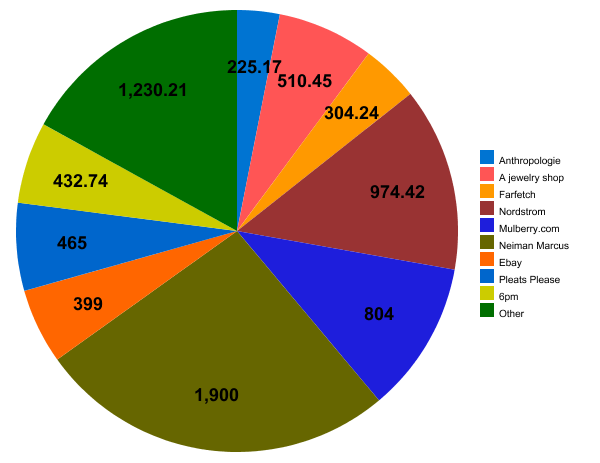 This chart shows all the stores I spent more than $200 at. Stores in the Other category include: Theory.com;  TJmaxx; Marshalls; Intermix; H&M; Bloomingdale's; Target; etc. This grouping of stores helps me to more efficiently maximize cash back from the purchases.
By usage:
Mostly used: The Diamond/White Gold Ring Band ($510.45), wearing it every day
2nd place: Stuart Weitzman Chicboot (black suede) ($312.75), wearing it whenever possible, at least 40 times already this year.
3rd place: Alexander mcqueen scarf ($170), wearing it whenever possible, at least 30 times already; A pair of Tory Burch flat in black ($180), at least 30 times already
Least used:
Never worn: A lace dress from anthropologie ($45); a short-sleeve white cardigan from Ann Taylor ($25); A patterned shift dress from Neiman Marcus last call ($120); A pair of leggings from Boston Roper ($20)
Worn only once: A maxi dress from Nordstrom ($40); a patterned top from Neiman Marcus last call ($60);  A pair of pants from Boston Roper ($40); A floral patterned shirt from Ann Tayler ($30)
Worn only twice: Lost count, mostly items from $20 to $50 dollars.
Many items that I barely used are impulse purchases. They lured me into buying either because there were huge discounts, like the Anthropologie dress (discounted from $228 to $45) or because I wanted to take on riskier patterns and colors, like the dress and top from Neiman Marcus last call and the maxi from Nordstrom. Though these least used items may appear inexpensive, their costs per wear are much higher than those of the more expensive items that are used much more frequently.
Lessons learned
(well, maybe I should say, learned again and again):
Do not buy because there is a sale.
Do not buy because you suddenly feel like you want to try new things.
Do not buy from stores you are not familiar with (e.g., Boston Proper. Their products are of good quality, but they are targeting an older age group. Their pants/leggings felt a bit strange on me).
So here comes my wardrobe resolution for 2015:
1. Minimize impulse buys and totally eliminate the never wore category from 2015's summary;
2. 25 items for 2015. I am copying feather factor on this one.
3. Plan ahead and stick to the wishlist.
4. No bag purchase: I already have a perfect bag for work, a perfect bag for travel, a perfect bag for running errands, and a perfect bag for formal and evening events. I don't see any reason/motivation to buy another bag.
5. a $7000 pie. Almost certainly, I will again take the largest chuck of clothing spending in 2015. However, I will improve by shrinking the pie to $7000 instead of $9000.  That is another $2000 to our savings account. By maximizing my cash back from the purchases, I can add another $500-$700 to savings.
Well, it would definitely be better for our savings account if I make a $2000 pie. But I am not ready for that, at least not now.