Sale Alert: A "Sale Alert" page has been added to the top bar. The page would be updated on a weekly basis.
As I have mentioned before, I don't buy a designer item if I don't like the designer.  So yes, I do research every designer before I spend my hard-earned money on their designs. Instead of just letting the information fade in my memory, I think it might be a good idea to log it here.
The first post of Luxuriously Frugal's Designer Series is about a designer I absolutely love: Marissa Webb, the designer behind her eponymous label and the creative director at Banana Republic.
I came to know Marissa Webb when I first saw the following white jacket on Wendy in September 2013. At that time, I was looking for a white jacket.  Without any hesitation, I clicked on the link on Wendy's site which sent me to Marissa Webb's official site.  And wow, I was falling………. in love!
On the website then was Marissa's first Collection – Spring 2013 (Debuted on September 8th 2012 at the New York Fashion Week (NYFW)).  What I saw on the website were not some ordinary clothes! Below are some items from her first collection.
(Please note that my picks are biased as I am only showing the ones that I will wear. Many beautiful items are not shown because they do not suit my lifestyle.  To see the full collection, click here.)
Marissa Webb – Spring 2013 (A staged presentation):
The leather/linen, leather/silk, and black/white contrasts are just amazing! The white jacket (official name: Genevieve Blazer) is my favorite item from this whole collection. As I will show with more pictures below, this jacket is so versatile.
Tweed and Leather (the green trims are in leather),  the perfect sequins and silk combo, and the sophisticated color!  When fun marries elegance, the world smiles!
Structured shapes with soft and feminine details.  The black and white color combo is again hard to beat!
This silk shirt is amazing. The double scarves around the neck make the shirt very special and easy to wear (it is interesting how her designs can accommodate the often conflicting descriptions).  The shirt comes in many colors, like red, blue, green, white, and the prints! The prints in the right picture was Marissa's signature prints for this collection, very rich and whimsical with an oil painting deepness!
Marissa's comments on her first collection: "High and low, black and white, soft and hard, accessible but also inspiring".  Yes, yes, I am in total agreement! She definitely delivered what she intended to deliver!
Needless to say, I was hooked after seeing her first collection.  Before buying her clothes, I researched a bit more:
Marissa Webb
Birth Place: Korea
Nationality: United States (adopted at the age of 4, along with her 3 biological siblings, and was raised in Pennsylvania, then Vermont and South Orange)
Home: N.Y.C. near Union Square
Education: Started at Rutgers University as a psychology major and later transferred to FIT (Fashion Institute of Technology)
Family: fiance: Guillaume Sivadier (works in finance, likely JP Morgan); puppies: Molly and Troy;
Employment History (the years are just my informed guesses, so they may be off a bit):
        Polo Ralph Lauren (1997-2000): Initial Position: a freelance designer. Last Position: a full time designer for jeans
        Club Monaco (2001) and a few other places
        J. Crew (2002 – 2011):  Initial Position: a designer for cut and sew knits. Last Position: VP of Women's Apparel and                                                                  Accessories Design
        Marissa Webb (2012 – present): Founder and Designer
Banana Republic (2014- present): Creative Director
What best defines her design style: "I'm a tomboy in a tutu". She is known for combining masculine and feminine elements in her collections.
Where are her clothes made: N.Y.C.
More about her:
She did not come from a rich family. She worked in a grocery store in middle school and paid for her own college. She lived on Dunkin' Donuts coffee and ramen noodles during college years, because she did not have much money.  After knowing her a bit more, I sensed that her collaboration with Wendy was a natural and perfect choice. Both of them are amazing women that have overcome adversity. If you follow her on Instagram, you will get the feeling that she works very hard and is very grateful for what she has achieved.  Among the 100+ designers I am following on Instagram, she is the one that posts inspiring quotes the most often. Below are some quotes she posted:
"Always remember to fall asleep with a dream and wake up with a purpose".
"Great things never came from comfort zones".
"Decide what it is you want. Write that shit down. Make a fucking plan. And… Work on it. Every. Single. Day."
"Wake up, Kick ass, be kind, and Repeat."
"There is no elevator to success. You have to take the stairs."
"I'm not interested in competing with anyone. I hope we all make it".
And the most recent one:
"If they don't like what you're bringing to the table, let them eat alone. Simple as that."
…
How can you not like a person that is serious, kind, upbeat, hard-working, and doesn't take things for granted? I already fell in love with her designs, and it was an easy fall for her as well!
Want to know her more, read this and this or browse the reference list at the end of this post.
I have been following her since that fabulous first collection. Below are my picks from each of her ready-to-wear collections. I should admit that between her tomboy and tutu sides, I am biased toward the tutu side of her. But the tutu side would not be so attractive without the tomboy touches.
Marissa Webb – Fall 2013 (A staged presentation):
See the whole collection here:
Style.com's comment for this collection: ""I don't ever want to be just one thing," she (Marissa) said. Still, our money is on the masculine, tougher side of her Fall story."
My favorite piece in this collection is the blazer on the left in the third row.  Wendy featured this jacket on her blog.
Marissa Webb – Spring 2014 (Her first runway show):

See the whole collection here.
Wendy featured the last dress here. 
Marissa Webb – Fall 2014
See the whole collection here.
Marissa's comment on this collection: ""Everything's hectic, chaotic, fast-paced. The collection is about feeling polished, feeling like you have a little edge, but at the same time not being constricted or confined, and not having to think a lot about it,"
Marissa Webb – Spring 2015
See the whole collection here.
Marissa's comment on this collection: ""Hard and soft, masculine and feminine, East and West kept coming to mind," Webb said backstage. "Not just East Coast-West Coast, but the volume and sweep of the dresses and tops."
This is a nice summary for all of Marissa's designs! I guess this is why girls from everywhere (East or West, Far East or Far West), from different fashion tastes (masculine or feminine), and with different personalities (hard or soft) can all find at least one piece in her collection that speaks to them.
But honestly, even though I still love her designs, there are fewer and fewer pieces that I would like to buy/wear in her more recent collections. My favorite collection of hers is still the first one. I feel she was more conservative in that collection and the J. Crew influence on what sells was still strong.  So her collection had the perfect mix of wearability and designer edge, and the right amount of the tomboy and tutu fantasy. For her later collections, she has become more adventurous and start to show more of her own personality. While there is nothing wrong with that, actually this might be what a designer should do, the clothes become harder for women who are not tomboy-chic type. This trend is very apparent in her spring 2015 collection (I was only able to pick out four designs as shown above that I may possible wear). I wonder whether becoming the creative director of Banana Republic has pushed her to take on more risk with her own label as she might be playing more safely with the collections she is over-sighting at BR.
What have I bought?
Everything I bought was from her first collection, that tells you how much I love it.
First piece: Mika Lace Blouse 
Marissa wears it in the right photo. Mine is shown in the left.  I have had it for a year and half now. It is definitely a work horse in my wardrobe. It can be dressed up or down. I have worn it to dinner dates (with black pants) and on tourist strolls (with jeans or shorts).  The lace is of good quality and the lining is 100% silk.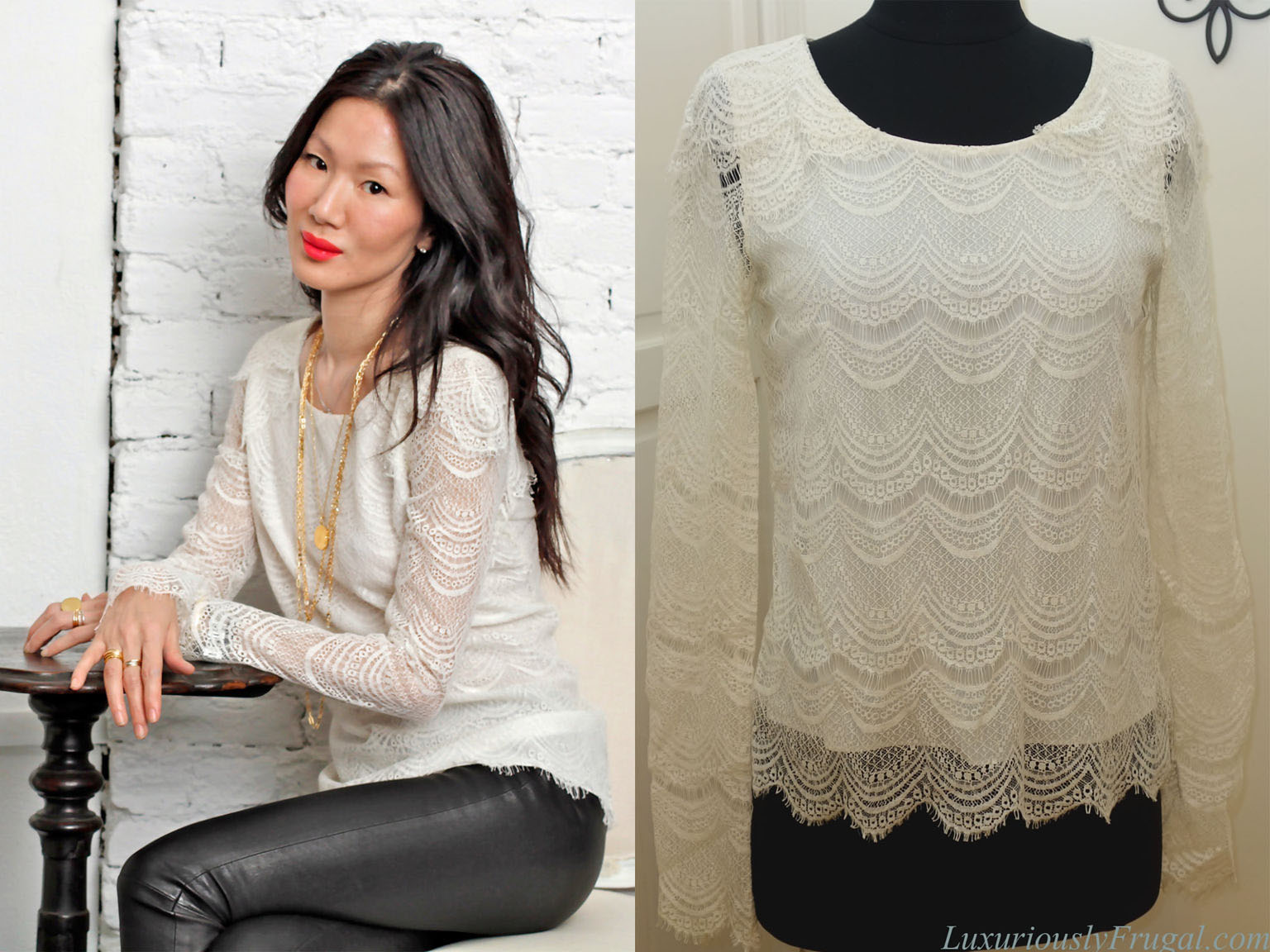 Second piece: Grey tweed jacket with green leather trim
Anna Kendrick wears it in the right photo and mine is featured in the left photo. I have wear this jacket mostly to work with a tank underneath. The jacket is well made and hugs my waist beautifully.  The green leather trim adds fun elements to the jacket and also makes it look more expensive. My only complaint is that the edges of the jacket fringe a bit.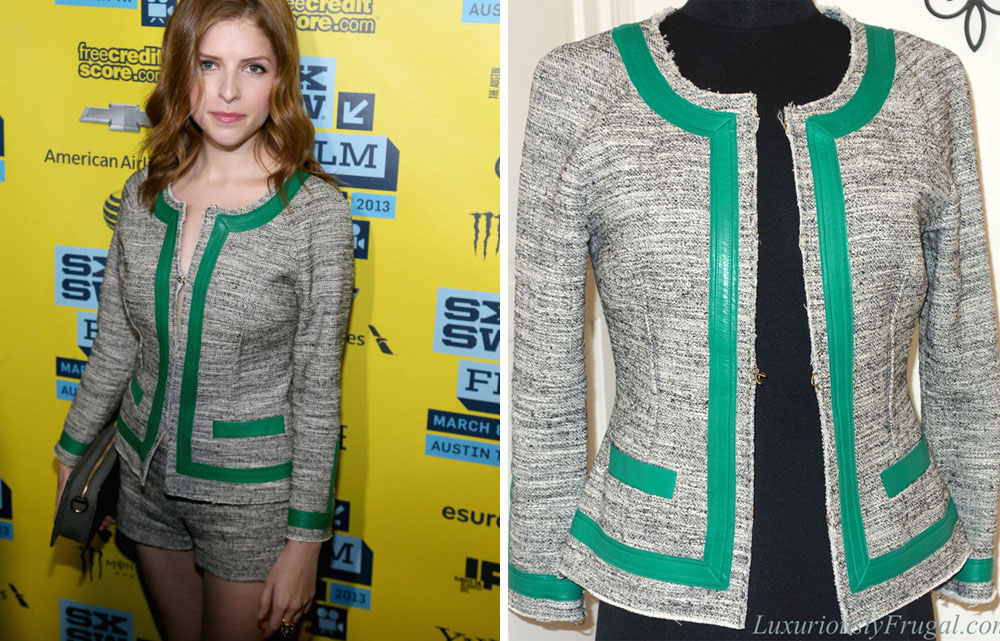 Third piece: Silk shirt with double scarves
This is the same shirt that is shown in red and the prints above.  The silk is of good quality, heavy but not dull. I played safe on the color by picking the royal blue. While I love the color, I wish I have got the prints one instead.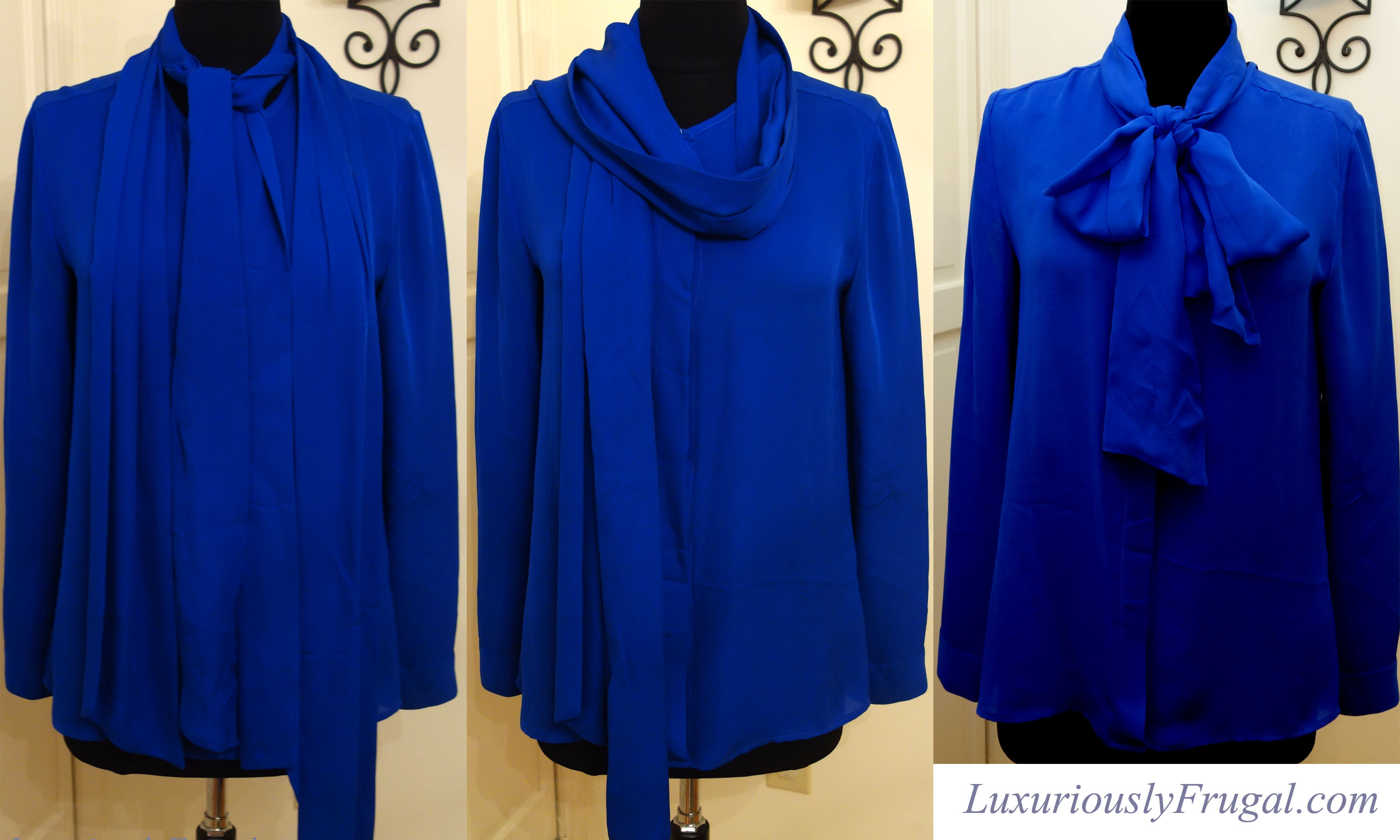 Fourth piece: The White Jacket
Oh, my! I cannot say enough good things about this jacket. It is well made and well cut. The material is a good cotton and linen blend with 100% silk lining.  It is a heavy fabric that breathes. The heaviness of the fabric not only enhances the structure of the jacket, but also makes it much more expensive.  This can be worn on a chilly summer day, in the spring or early fall. As talented Wendy shows below, you can pair this baby with many things. It is the perfect case of casual-cool and effortless chic! A classic white jacket.

Marissa successfully added some fun elements to this jacket as well.  Look at the shoulders. As shown in the right picture, you can let them stick out as shoulder shields (a more crisp and masculine look) or you can hide them by folding them in ( a more traditional look). Please pardon the wrinkles that showed my love for the jacket. I should have ironed them before taking the photos. But you get the idea, right?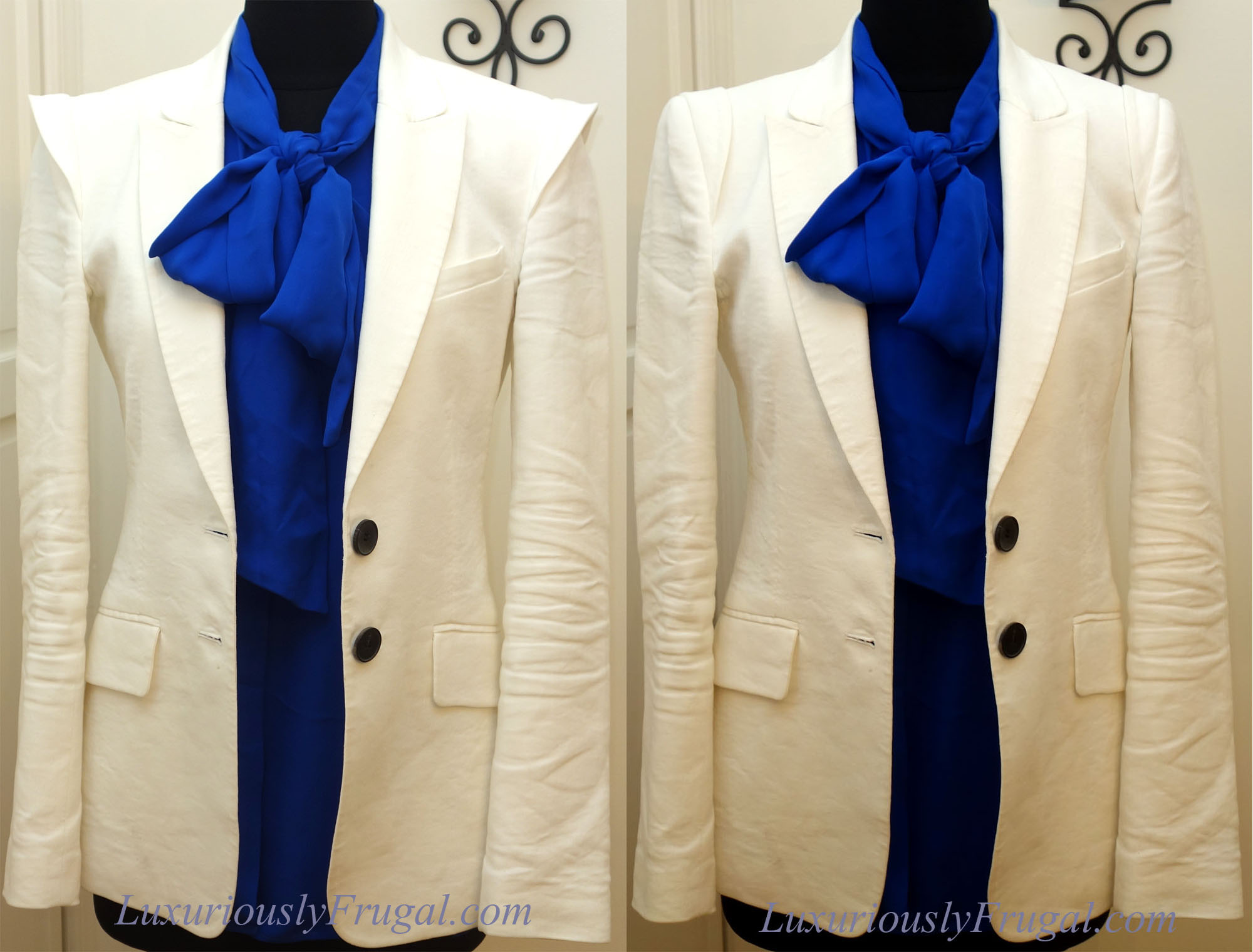 Fifth piece: The White Dress
My dress is on its way to the dry cleaners. So I used some photo from Barneys.com.  The beautiful barefootblond has some nice photos of this dress as well.
Where to buy Marissa Webb? 
Marissawebb.com, Barneys, Intermix, Shopbop, and ScoopNYC.
Marissawebb.com is currently running sales on its Fall 2014 collection. There are some great deals.  Check them out!
If I am in a colder climate, I would be very tempted to buy this jacket at 40% off.
These shoes are very beautiful, the right pair is now 60% off and the left pair is 40% off.  Wish I could handle heels this high.
An interesting story from nymag.com about the shoes in her collection and summarizes Marissa's plan for her label.
"In terms of success, where do you see the label in five years?
I hope we have a healthy growth, but I do think one of the biggest mistakes that any new brand can make is trying to get into too many categories at once. So, for instance, we're not into accessories right now. The reason we did get into shoes is because one night I woke up before our first presentation, and I was like, Oh my gosh! What are these models going to stand in? We have no shoes! That's the only other accessory category besides apparel that we are getting into right now; it's not going gung ho into every single category possible".
Look forward to seeing how her label evolves over the next five years!
Do you like Marissa Webb? Thank you so much for reading!
Reference List:
http://www.beautifulstranger.tv/snaps/marissa-webb
http://www.elle.com/fashion/a13805/marissa-webb-fashion-tips-on-how-to-wear-sparkles-at-the-office/
Marissa Webb's Instagram
http://marissa-webb.com/about-designer-marissa-webb/
http://www.style.com
http://www.thefashionspot.com/runway-news/358581-designer-to-watch-marissa-webb/
http://www.nytimes.com/2014/11/16/realestate/banana-republic-executive-decorates-her-home.html?_r=0
http://digital.turn-page.com/i/298368/30
http://marissa-webb.com/about-designer-marissa-webb/
http://www.wendyslookbook.com/ (search for Marissa Webb to find Wendy's looks in Marissa Webb)
http://www.fashiontrendsdaily.com/fashion-2/marissa-webb-appointed-creative-director-of-banana-republic
http://nymag.com/thecut/2013/01/marissa-webb-dreams-of-a-mad-hatter-wedding.html