Sale Alert: A "Sale Alert" page has been added to the top bar. The page would be updated on a weekly basis.
Nothing is free in this world, even not fresh air.  Then why do I have a post called Free Money?
When I first found this source of free money, I did not believe it either. There must be a catch! I told myself. So I signed up and have been cautiously waiting for the catch. However, six months later, the free money is indeed coming in every month with a catch that has not showed up yet. Well, not totally free, you need to spend some time to set it up initially (about 30 minutes) and then maybe, if you are anxious like me, you will spend three minutes each month to monitor the process. What is the return for your three minutes? $20 dollars, which is $400 per hour. If you are not anxious, then you can set it up and forget about it, which will make an infinitely high hourly rate (because the denominator is zero).
What? You don't have 30 minutes to setup a money printing machine that prints you money every month? Come on, you spent two hours surfing on the web without a purpose, you binge watching a TV series for hours, and you snooze your alarm for 30 minutes every morning.  There is time. It all depends on how much you want to do it.
I happen to love money a lot (who doesn't? If you don't, please dump your hated money here!), no matter big or small! So it does not take too much effort to lure me into a deal like the Santander Extra 20 checking account. What I was skeptical of is the process. Will the process be smooth or full of hiccups? Will they delay the payment? Are there a lot of restrictions to get the $20?
Without further ado, let me reveal the details:
What is the deal?
Santander will pay you $20 every month if you complete the following two actions every month:
a. $10 for having Direct Deposits of $1500 or more
b. $10 for paying 2 bills with BillPay through Online Banking
Too much hustle? No! You can setup automatic actions for both items and then the money will flow in automatically forever (well, at least till they cancel the policy).
What do you need to do initially?
Step 1: Open extra20® Checking and extra20SM Savings accounts.
They will ask for your social security number. But this is a soft pull, which means it will not affect your credit score.
Step 2: Deposits a minimum of $25 dollars to the checking and $10 to the saving.
It seems that they have changed the rule a bit. When I opened my account last fall, there was no deposit requirement for the savings account.  But the good news is that you can use a credit card to make the deposit. And yes, you do earn points on your credit card (you may want to google to see if you can earn points for your credit card when you use it to fund a bank account.  I knew Citibank is pretty sensitive and may classify this as a cash advance instead of a purchase). I used my Barclay 2% credit card to make a $500 deposit (maximum allowed on a credit card funding) and did earn 2% on the $500 deposit.
Step 3: Setup an automatic transfer to Santander from your main bank account.
In my case, Chase hosts my main checking account. From Chase's online banking website, I setup an automatic online transfer of $1500 to Santander on the 3rd day of each month. Yes! You don't have to have a direct deposit from your paycheck. An ACH debt push like this is also counted as direct deposit for Santander.
Step 4: Setup two automatic billpays on Santander's online banking website.
I use the $1500 I transferred to Santander in Step 3 to pay my main credit card. I have setup two billpays, one $1000 bill pay and the other $500 bill pay, to the same card.
Step 5: Receive $20 in your extra20SM Savings account at the statement close date for that month.
The table below presents my statement of cash earnings in the past six month.
What do you need to do every month?
Nothing. Just watch your money grow!
As shown below, I got $110 for free! It is not $120, because I turned off the billpays in December as I lost the credit card.  For all the other months, I am getting $20.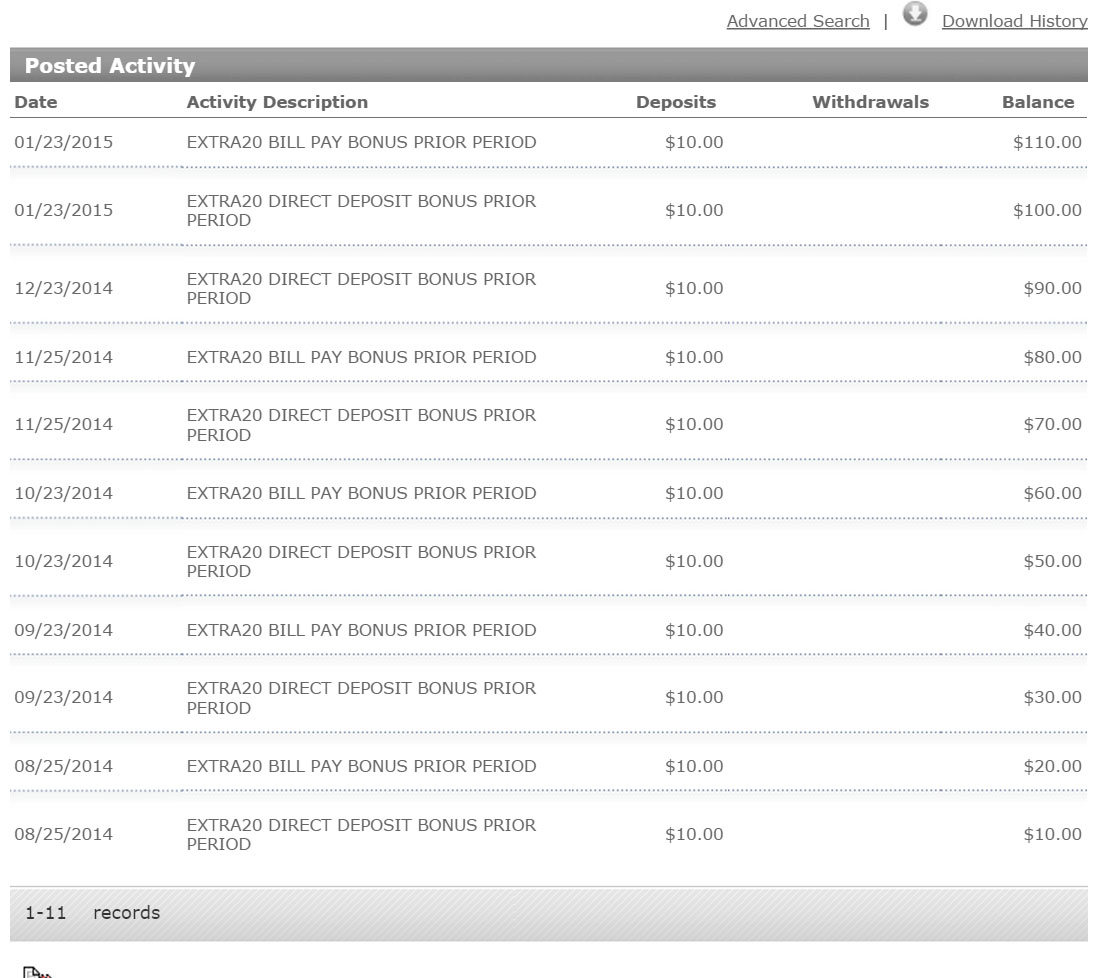 Worth doing?
Depends. For me, I will totally do it because $240 ($173 after tax assuming a 28% marginal tax rate) a year is enough to cover the annual registration fee of my son's soccer club or his aftercare fees for one semester.
Why you may not want to do it?
a. You are already making >$400 an hour and you feel this is a waste of your time.
b. You spend less than $1500 a month.
c. You don't use credit card.
d. You don't like anything that is automatic.
Would you take advantage of this deal? If not, why not? Love to hear your opinion.
Thank you so much for reading!
Disclaimer: I do not receive any commission from Santander by posting this. What I shared here is my honest opinion. This post is provided for informational purposes only and is not intended to substitute for obtaining professional financial advice. Please thoroughly research everything you read here before acting on any information you may have found in this blog.