Sale Alert: A "Sale Alert" page has been added to the top bar. The page would be updated on a weekly basis.
For our anniversary in January, my husband got me a Hermès shawl. Well, actually I picked the gift, drafted the anniversary card, and swiped the credit card. All he did was acknowledging the purchase.  Not romantic, but works beautifully. I love the efficiency that comes from this kind of gift giving. He is not stressed about whether he is getting the right thing for me. I am not stressed about whether he is wasting money on some nonsense. Yet, we can still attach a lasting tangible item to this anniversary.
As I have confessed, I love luxury items and saving money. These two passions, needless to say, conflict each other big time. What I have settled now is that I will only buy luxury items for special moments and on things I can use for at least 10 years.  While Hermès shawl was an easy pick that fits the requirement, picking the right design was much harder.  There are so many beautiful designs out there.  Below is a recap of my thinking process:
a. Past seasons vs. current seasons
Choice: Shawls from current seasons that are available on Hermes.com or in store, or shawls from past seasons on ebay or other online stores.
Decision: I decide to go with current seasons for two reasons. First, I don't want to risk buying a fake one. Second, since I am buying it for our anniversary, I want it to be brand new and with a traceable birth.
This decision narrowed down my selections to what is available on Hermes.com.
b. Which design to choose?
Choice: Over 70+ beautiful designs online.
Decision:
b.1 Color
I went to a Hermes store to try out different shawls.  The stores normally would not have all the designs available. So the key was to try out which colors fit my skin tone. I always loved blue and have many clothing items with blue hue. I thought a blue shawl would be perfect. But surprisingly, a heavily blue shawl does not cheer my face up and made me look sad/old. After trying about 20 shawls in store, I find that red/green/yellow fit me nicely. If you are thinking about buying a Hermes shawl, please go to a store to try the colors out. You may be surprised at your findings.
b.2 Pattern
In mind mind, Hermes shawls should be bold and colorful, making a statement. So I was not interested in subtle designs. I want bold and colorful patterns in red, green or yellow. Maybe still a hue of blue just because I love blue.
b.3 Versatility
The diagonals of a shawl are very important. This is something I learnt from Maitai's Picturebook. The more colorways the diagonals have, the more colors you can match to your wardrobe items. I crossed out a few choices because there is only one color along the two diagonal lines.  As you will see from the picture below, the diagonal colors can totally make a difference.
b.4 Designer
The last step is to research the designers on my final choices. Before I buy a luxury item, I always want to know who is the designer (didn't I mention that I want a traceable birth for my babies?)  I have turned down items I love because the designer is not my cup of tea.  So after I narrowed down my selection of shawls to a few with red, green or yellow color patterns, I started researching the designers one by one. Google is fantastic. Don't you agree search engines are one of the best inventions of internet?
The winner goes to:
Name: Brides et Gris Gris
Color: Red/Green/Yellow, and YES! some blue too.
Pattern: Very Hermes in my opinion. Bold and cheerful!
Versatility: Four colors along the diagonal lines!
Designer: Virginie Jamin, a children's book illustrator and you can see her picture in this WSJ article. Her background explains why the shawl looks so cheerful!

C. Where to buy?
Choice: Online vs. In store
Decision: This was an easy decision for me. There is no Hermes store at where I live and I don't pay taxes if I buy online.  The only additional cost is a $35 shipping charge. I used my 2% cashback card to pay for it, which helps to cover the shipping charge. 
Now the baby has arrived, shall we have a baby shower?
Arrived in an orange receiving blanket: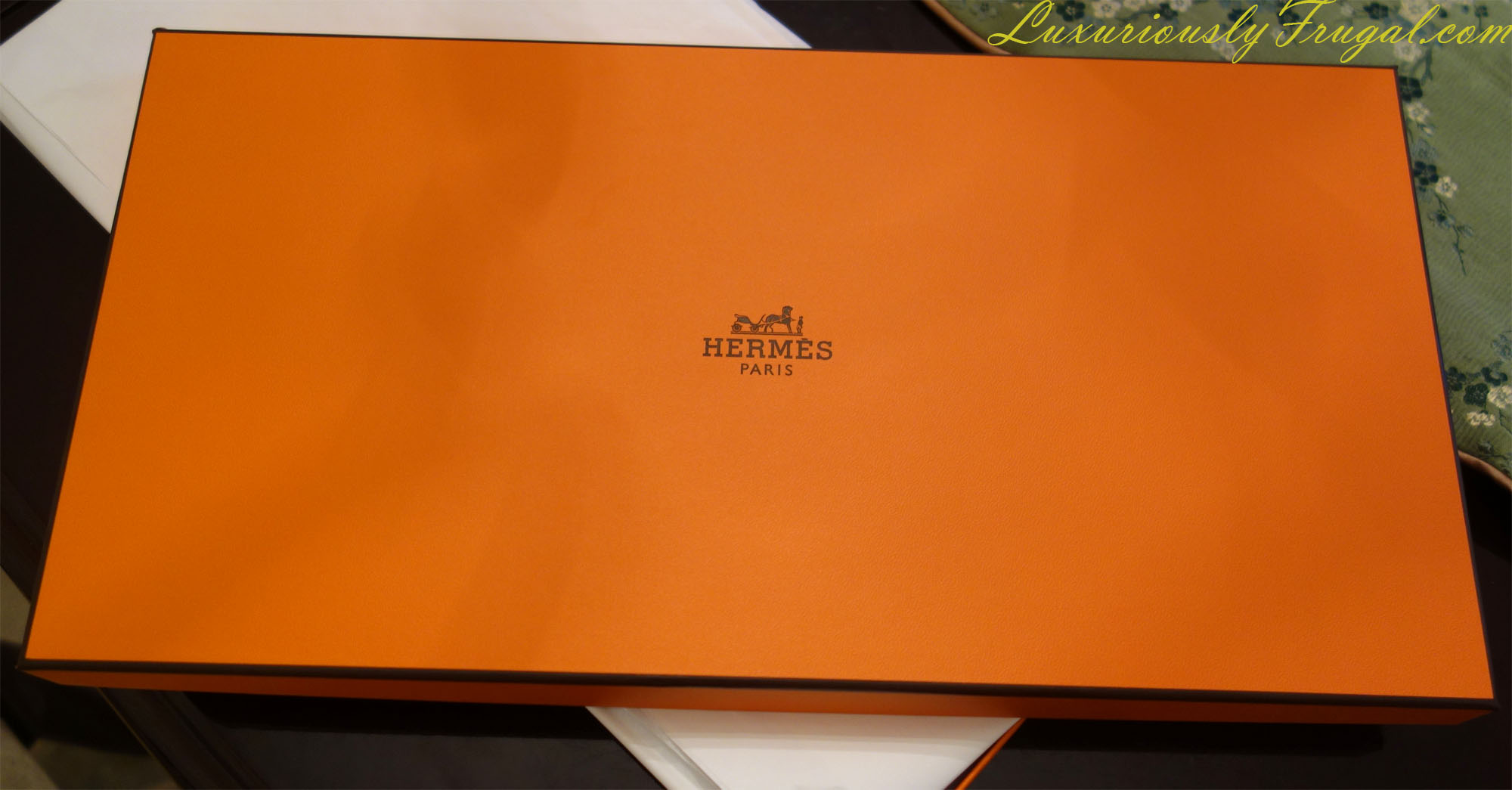 Birth Certificate: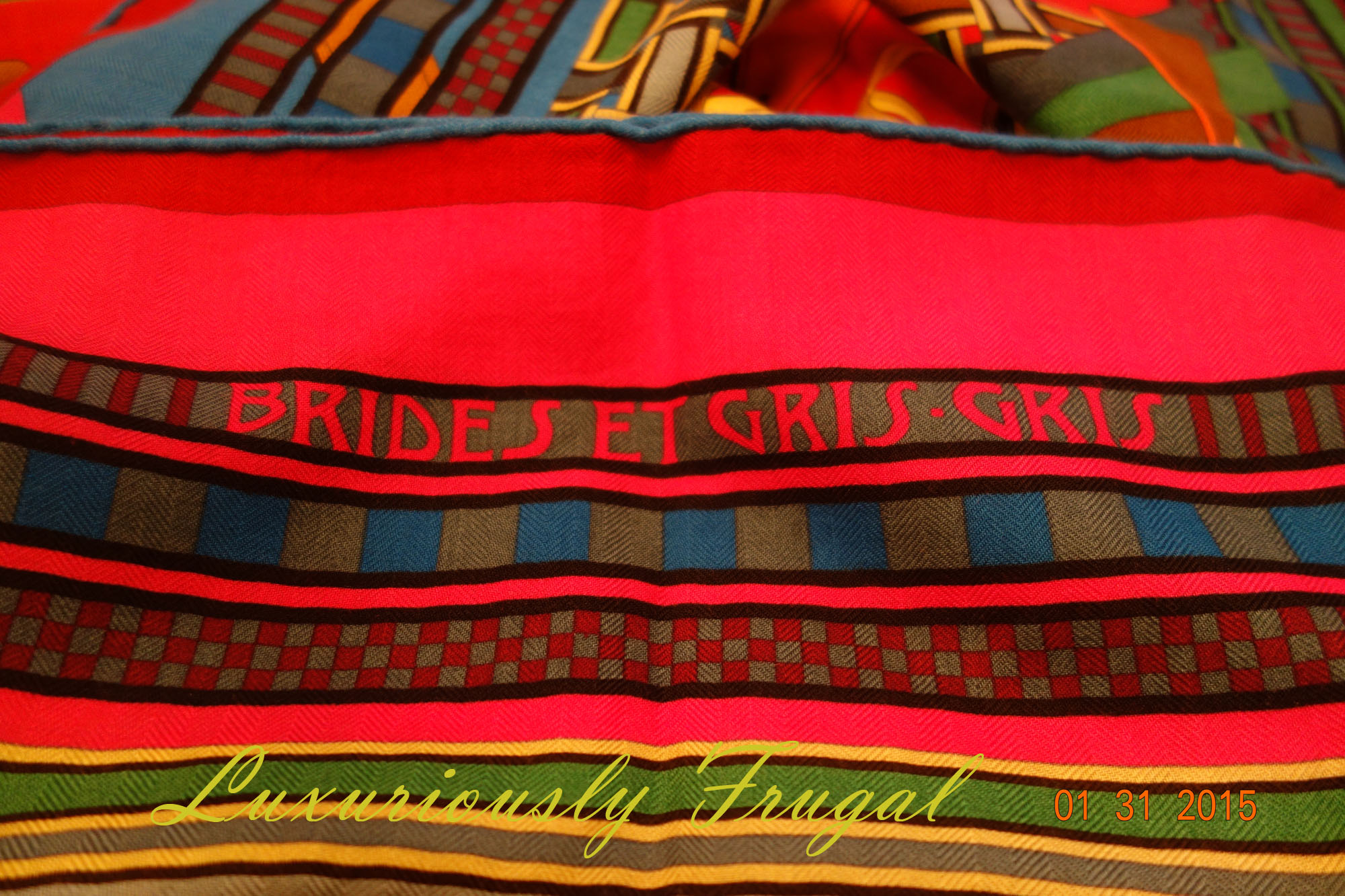 Biological Mother: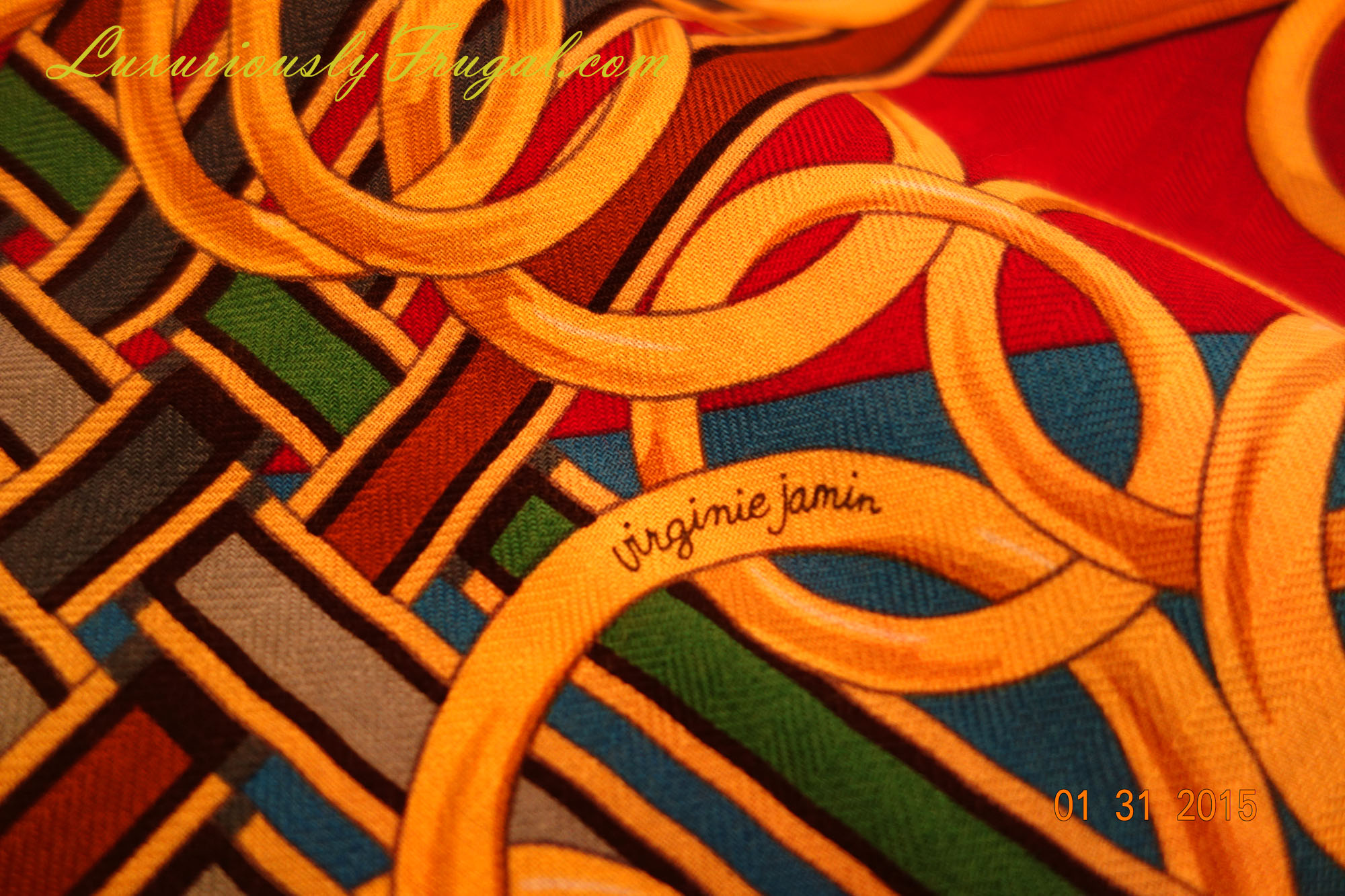 Some birthmarks: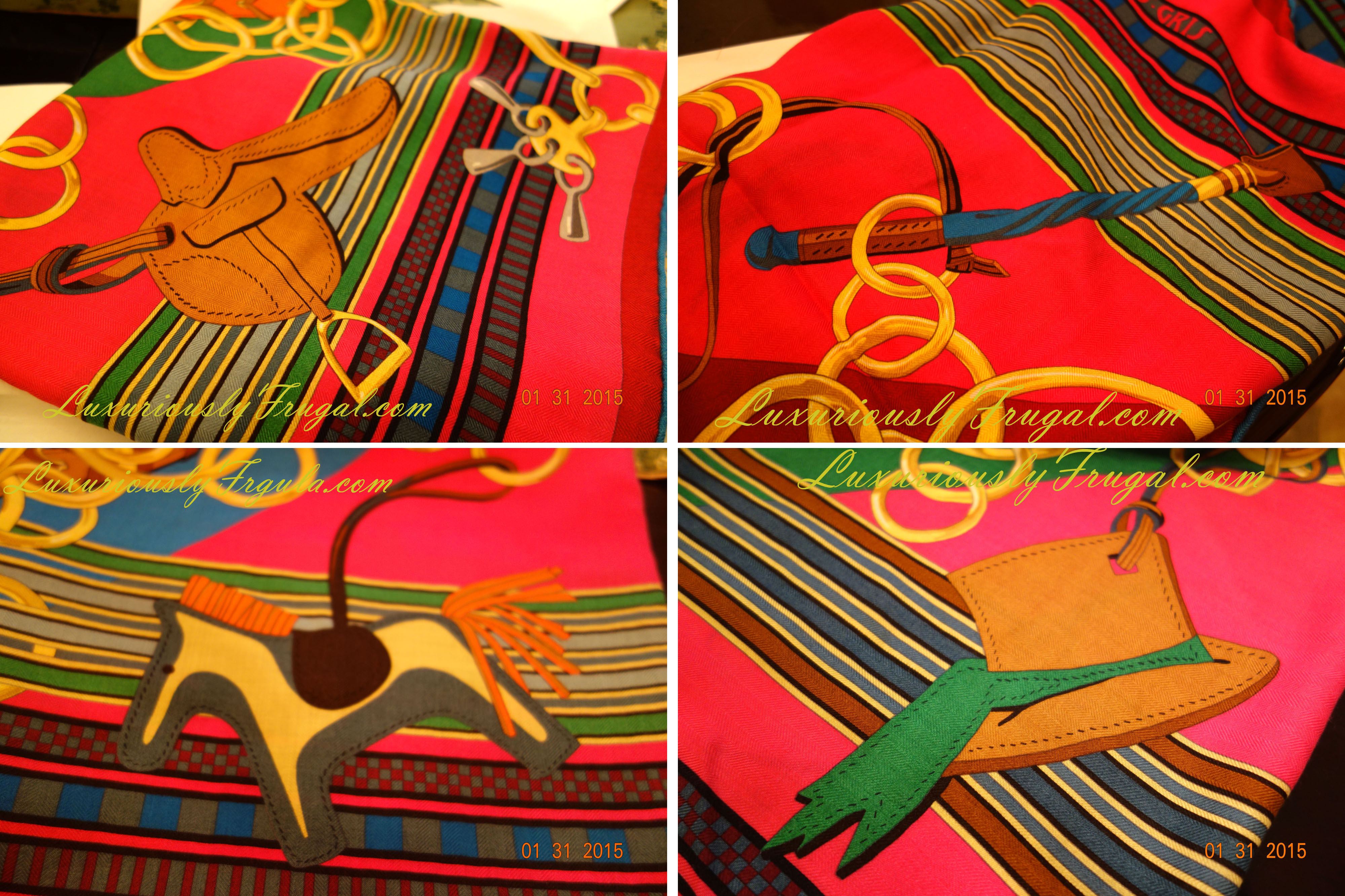 Coming out in red and green: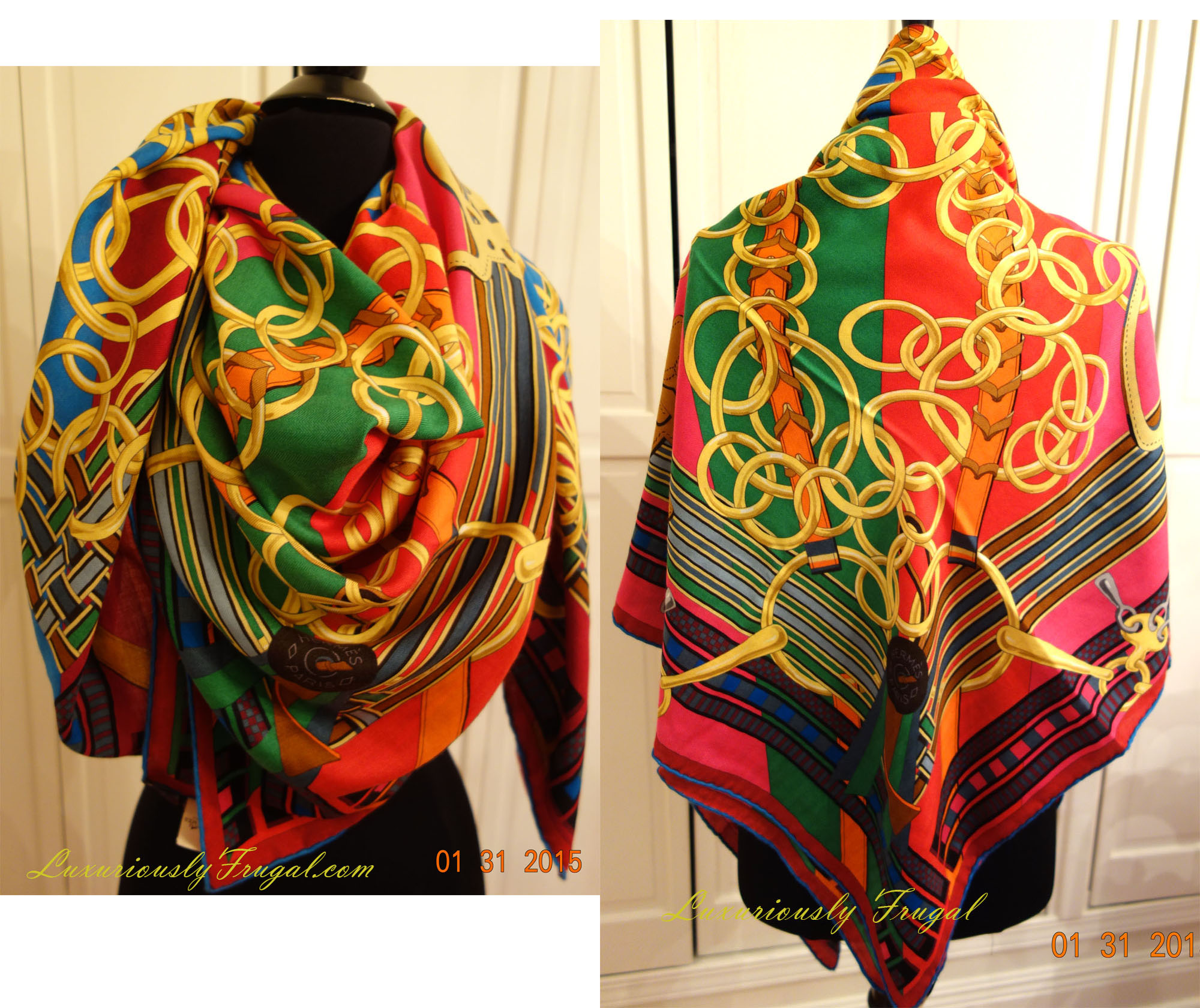 Coming out in Fuchsia and Blue: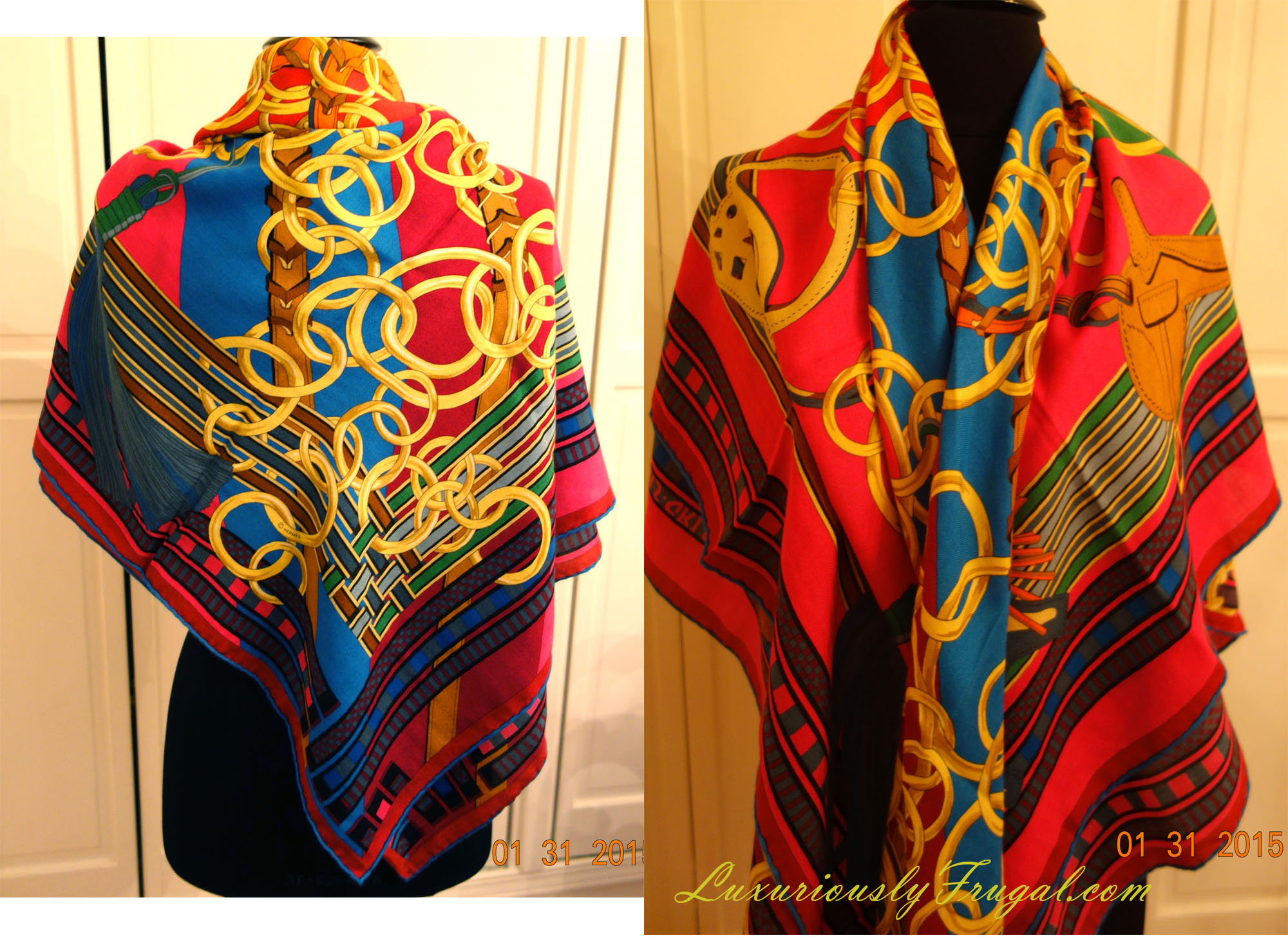 See how folding along the diagonals changes the color of the shawl: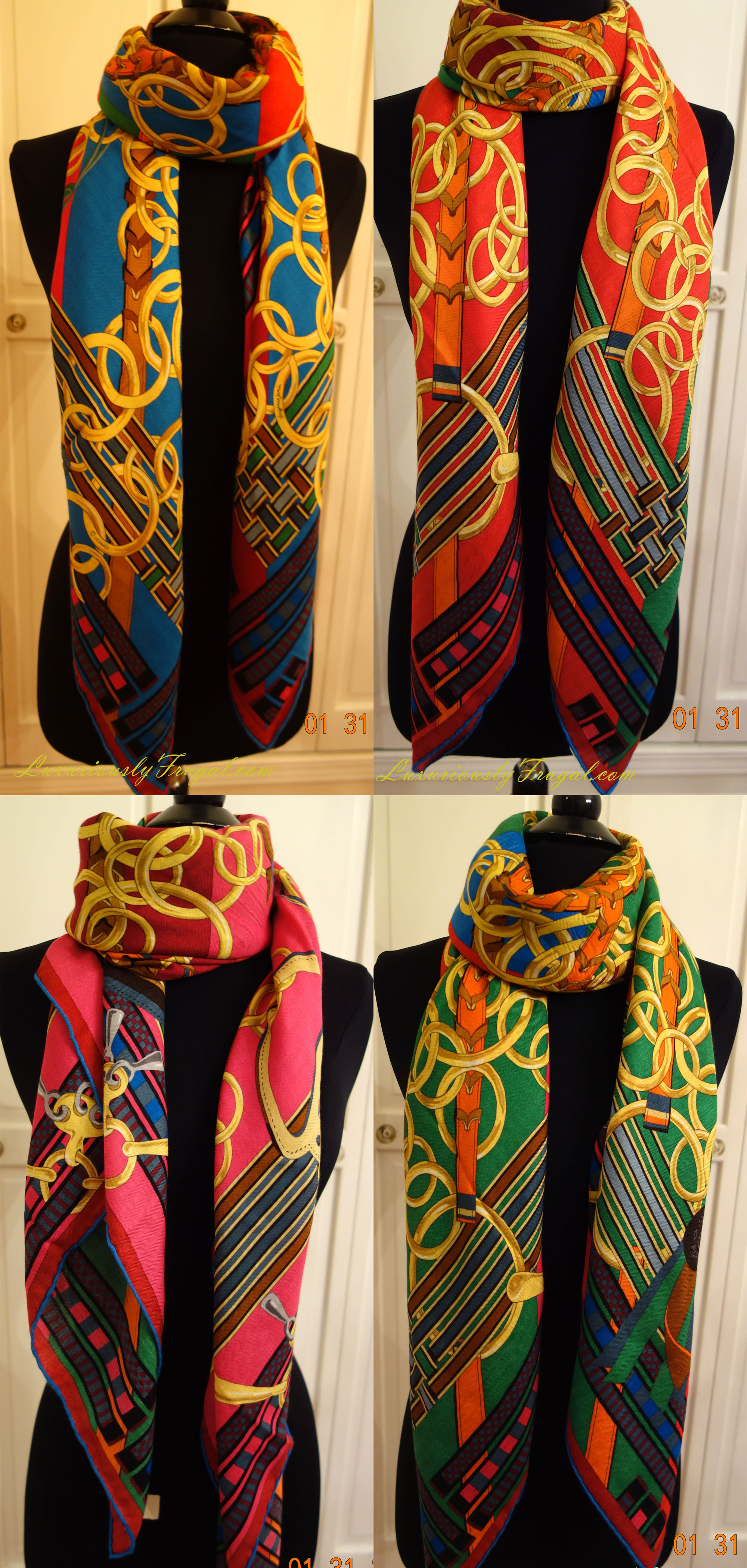 Colors, colors and the hand-rolled edges….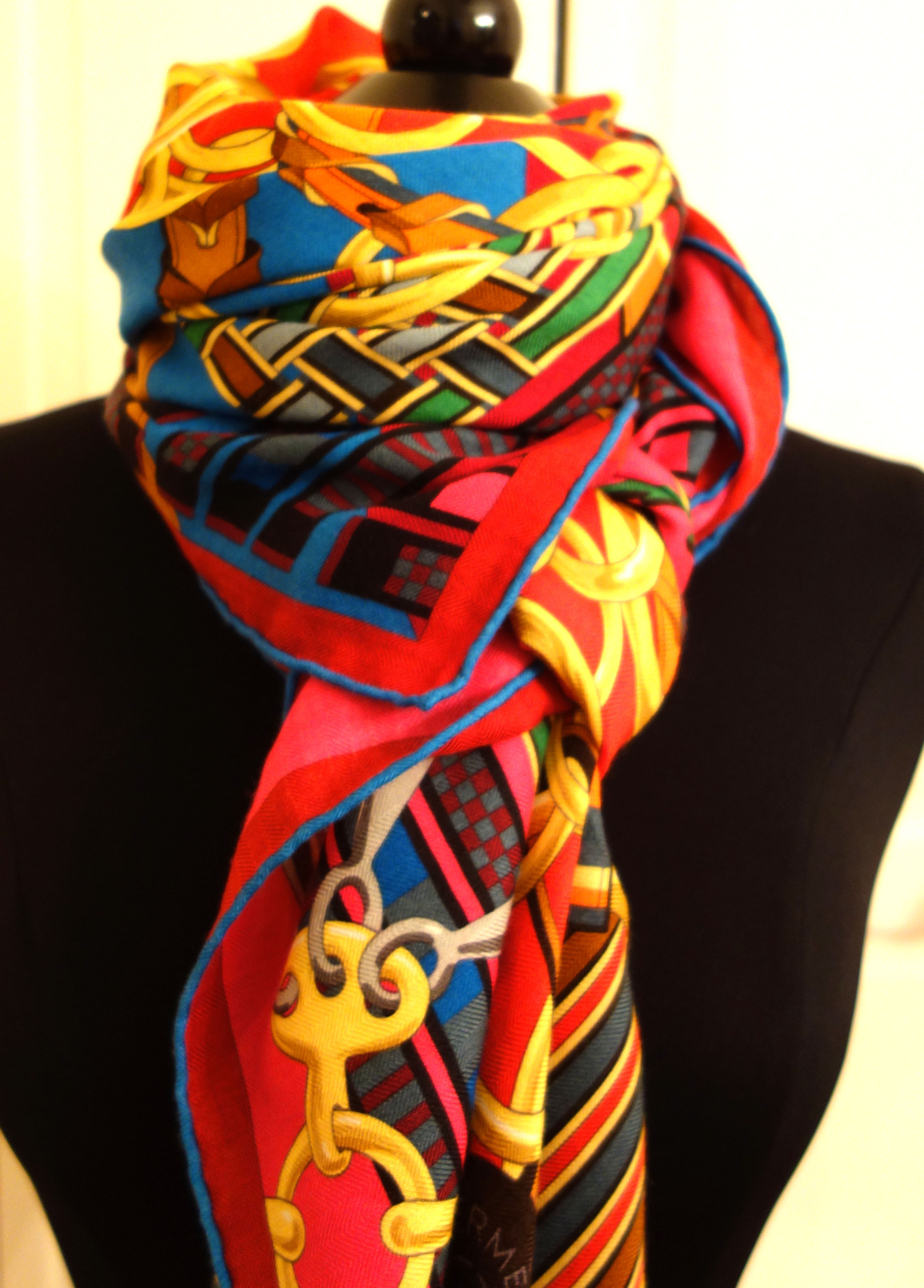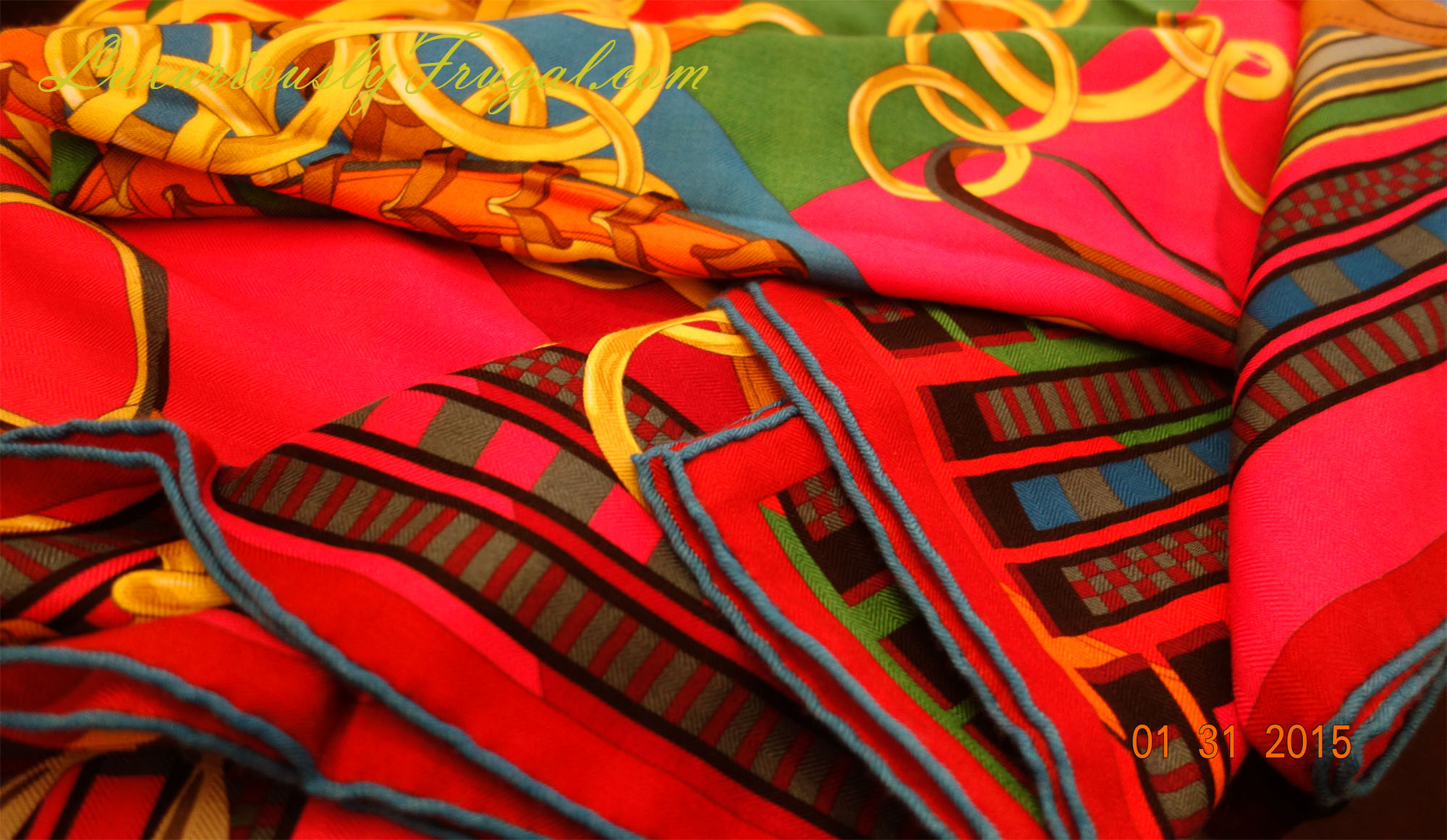 I am in love with this shawl! Cannot wait to take the baby out to get some healthy vitamin D fortified sunshine!
Thanks, my love, for a memorable anniversary!