Had some dental work done this morning. My dentist's office is not close to my home or my office. I need to drive 30 minutes one way to see him (which is pretty far in a city where it takes less than 20 minutes to go almost anywhere). He does not have the best price, nor the best service. But a random chat with him a year ago made me stick with him.
About a year ago, I asked him why he rotates in three offices and works long hours. He said he needs money, a lot of money, because he has five kids to take care of and the youngest one is a special need child. I don't think my fees to him make much of a difference (as I mostly just need routine cleaning), but I prefer to give my money to a responsible dad. Plus, if I only visit him twice a year, I can stand the additional 10 minutes of driving.
This morning, we again had a random chat while he was looking at an x-ray of my teeth. He told me his 401k is managed by some financial advisers that ONLY charge him 1% a year to invest in "Vanguarder" funds.  I confirmed he meant Vanguard and then suggested that he could avoid the 1% by investing in low-cost Vanguard index funds himself. He responded, "yeah, but it is only 1%, not a big deal."
Is it really not a big deal? Let's do some calculations:
Assumptions: Assume we follow Jim Collins' advice and invest $50,000 every year in Vanguard Total Stock Market Index Fund (VTSAX).  Investments are made at the beginning of the year and fees are paid at the end of the year.
Details about VTSAX:
Expense ratio: 0.05% per year, which means you pay 0.05 cent as fund fees for every dollar invested in this fund. No other expenses.
10-year average return:  8.10% (Assume that the history repeats itself and this return continues into the future)
Now let's compare the following two scenarios:
Case 1: No financial adviser. Invest in the fund myself.
Case 2: Hire a financial adviser to invest in the fund and pay him 1% a year.
(Note: this does not have to be a difference between with or without financial advisers. The same logical/analysis applies when comparing index funds vs. actively managed funds. The latter often has an expense ratio 1% higher than that of the former).
Based on the above assumptions, I calculated the differences in investment values between these two cases. A picture is worth a thousand words: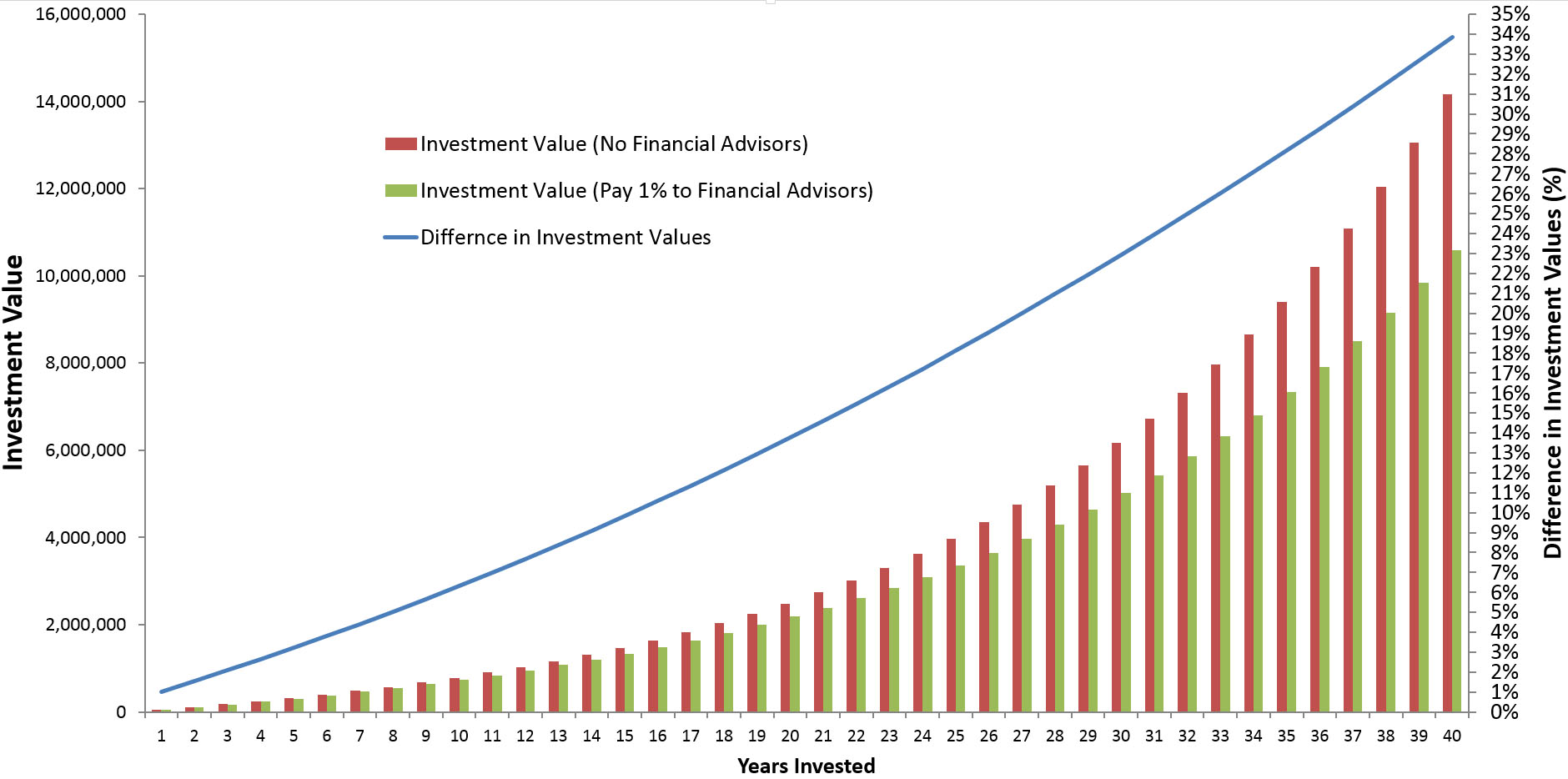 The red bar shows total investment value at the end of each year for 40 years when we only pay an expense ratio of 0.05% a year (case one). The green bar shows total investment value at the end of each year when we pay an expense ratio of 0.05% plus an additional 1% management fees per year (case two). These two bars use the left axis (investment value). The blue line shows the % difference in the values of these two scenarios. The blue line corresponds to the right axis.
The results are striking:
One percent annual difference in fees leads to 6.31% difference in total investment values in 10 years, 13.76% difference in 20 years, 22.92% difference in 30 years, and 33.86% difference in 40 years.
To put these percentages into perspective, it is a difference of $46,588 in 10 years, $300,509 in 20 years, $1.15m in 30 years, and $3.58m in 40 years.
OH MY GOD! 1% = $3.58 million! 
How about the differences in fees you paid?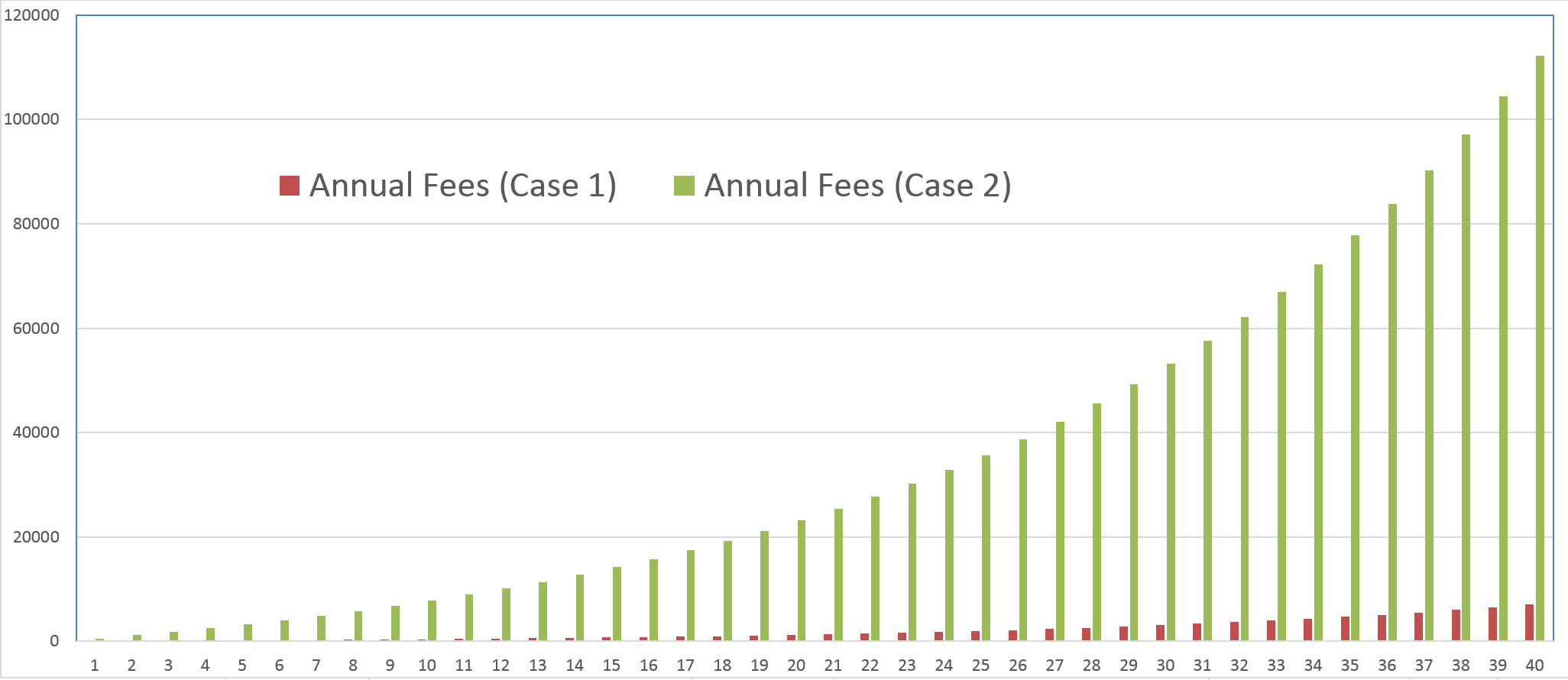 The red bar shows annual fees for a 0.05% expense ratio. The green bar shows annual fees for a 0.05% expense ratio plus 1% additional fees to financial advisers. The differences are apparently huge! For example, the annual fee is only $1243.03 in year 20 for case one and the corresponding number is $23,167.45 for case two.
In case the above chart is still not dramatic enough, let's look at differences in cumulative fees:
| | | |
| --- | --- | --- |
| Years | Cumulative Fees (Case 1) | Cumulative Fees (Case 2) |
| 1-10 | $1,909.95 | $38,721.79 |
| 1-20 | $9,974.50 | $192,894.92 |
| 1-30 | $31,383.03 | $573,446.90 |
| 1-40 | $81,723.02 | $1,397,886.19 |
In total, assuming you started investing at age 25 and retired at age 65, you would have paid $1.3 million more in management fees if you choose to have a financial adviser that charges 1% every year. In year 40, you, yourself alone, are paying a six-figure annual salary ($112,241) to the financial adviser.
Wait! What if my financial adviser is good and can generate returns higher than that of VTSAX?  
Let's see what the history has told us about the performance of professional money managers:
When compared with the market index: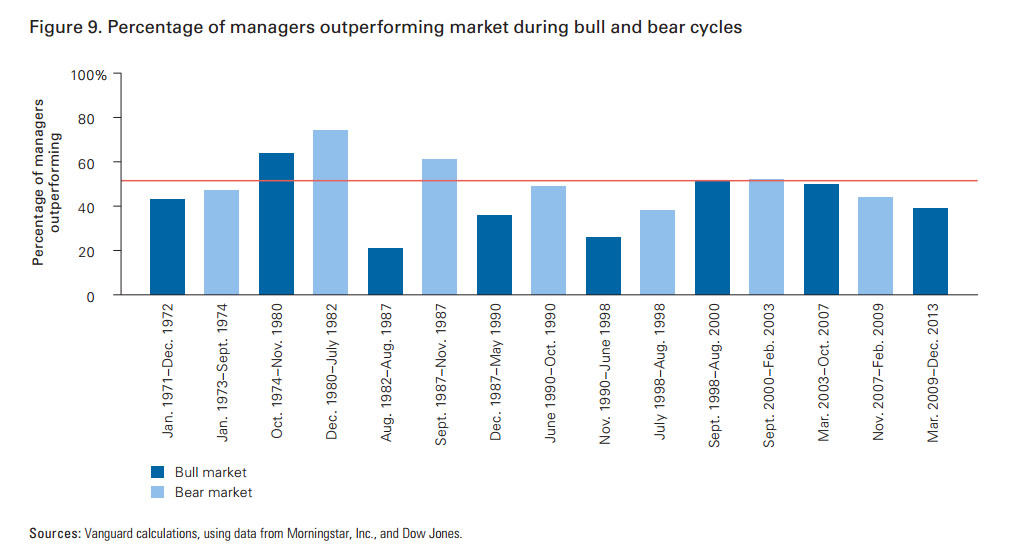 Except for some years in the 80s, most actively managed mutual funds (the ones with higher fees) underperform the market. This chart compares the performance of actively manged funds to that of the market, which does not take risk into consideration. The risk of these actively managed funds is often higher than that of the market index.  On a risk-adjusted basis, about 80% of the actively managed funds underperform their benchmark in the past 10 or 15 years (see details here).
When compared with low-cost index funds: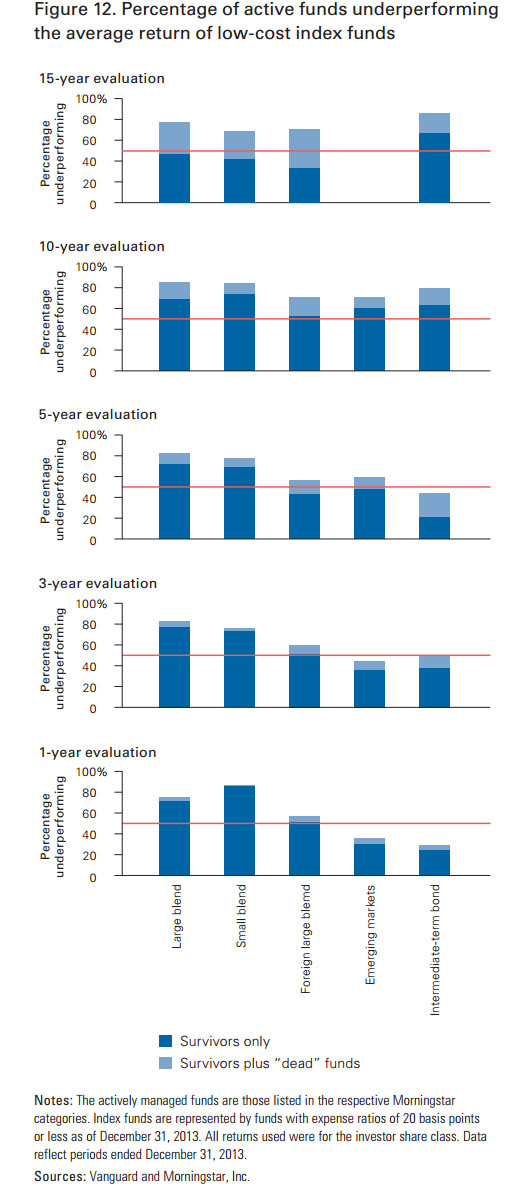 For the past 10 or 15 years, 70%-80% of actively managed mutual funds underperform the average return of low-cost index funds.  For funds that invested in U.S. stocks only (the first two bars), 70-80% of actively managed mutual funds underperform index funds in all horizons.
For more discussions on the performance of index funds and actively managed mutual funds, please read this paper by Vanguard researchers and this article by Jim Collins.
Wait again! There are still good managers that can outperform the market. My manager could be one of them! 
That may well be the case. But the odds are not in your favor. You are much more likely to have an underperforming manager than an outperforming manager. There are more managers than stocks. It is not any easier to pick a winning manager than pick a winning stock.
Conclusion:
1. Never underestimate the power of 1%.
2. Invest in low-cost index funds.
3. In most cases, it does not make any sense to hire a financial adviser to manage your investments. It looks like the cost of financial advisers will be significantly reduced by the robo-advisors. But even at the predicted expense ratio of 0.25%, these robots still cost you more than index funds.
4. When does it make sense to hire a financial adviser?  Some possibilities came to my mind:
a. You would not invest otherwise.  If you just put 50,000 in a safe every year, you will have $500,000 in 10 years, $1m in 20 years, $1.5m in 30 years, and $2m in 40 years. These numbers are significantly lower than if you have used an adviser to invest. In this case, I would strongly urge you to hire one, even if they charge 2% a year. This may well be the case of my dentist.
b. You need help with other personal finance decisions:  For example, the asset allocation decision, i.e., how to distribute your money between equity, bonds, real estate, cash etc. The concept of asset allocation is not hard, but the implementation can be challenging. Many times, it is a battle between rationality and psychological bias. It might be easier for a third party to fight the battle for you as she is likely more objective (to your money, not to hers).  This is where I think the robo-advisers can be of great help!
c. If you know a "Warren Buffet", then by all means, dive to his funds. But often times, these super-talented managers get to choose their investors and are normally not interested in retail investors like us.
What are the expense ratios of the funds in your retirement portfolio? If you are paying much higher than 0.05% a year, you may want to reconsider your options. Even if you don't have access to Vanguard funds in your retirement plans, many fund companies now offer index funds with expense ratios below 0.2%. Jim Collins has a nice post on this: see here.
If you want a copy of the workbook that I used to generate the graphs, please contact me here or leave a comment below.
Thank you so much for reading!