Sale Alert: A "Sale Alert" page has been added to the top bar. The page would be updated on a weekly basis.
Dear husband's comments on the last post:"It is a joke to write about Hermes on a frugal website." I kindly reminded him, it is not a frugal website, it is a Luxuriously Frugal website.  But I do admit that sometimes I feel like a person with double personalities. On one day, I am in total love for luxury items and would not mind spending big $ on them. On the other day, I am carefully planning my route to work so that  I can save $2 on gas.  However, I really don't mind which personality is in control, as I am equally happy either way.
Our expenses in January are high because of family visits and prepayments for kids' school and travel.
In addition to the four of us, my in-laws are with us for the entire January.  So the expenses are really for a family of six.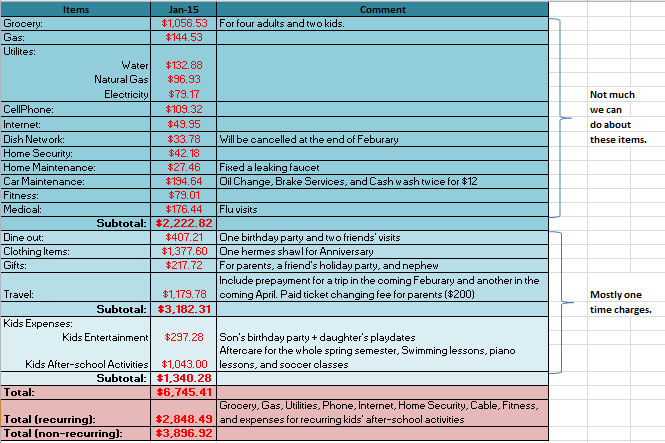 (1). Total non-discretionary expenses:  $2,222.82 (the first blue block in the table)
These are the expenses that we don't have much control of. Either because we are pre-committed to the payment (like Internet, cell phone plans, etc.) or we have to spend on them (like grocery, fitness, gas or utilities).
For a family of six, I feel we are doing okay. Per person cost is comparable to the Frugalwoods household and lower than the gocurrycraker household. However, I must note that this is not a fair comparison, as we do have a large chunk of discretionary expenses. And also, using six in the denominator is not really justifiable,  because the marginal cost per person is not the same. For example, even without my in-laws and kids living with us, we will still incur the gas, utilities, service, and fitness bills. But nevertheless, this number helps me to see what would be the minimum amount that we would need if we choose to retire early.
Room for improvement:
a. Cancel the dish subscription at the end of February.  We don't watch much TV at all. If we need to, we can watch on the internet. There is really no reason for having a subscription when we don't use it. We have decided to cancel our subscription at the end of February.
b. Car maintenance should be lower: We did a maintenance service for one of our cars in January, that explains the higher expenses. In February, our car maintenance costs should be < $20, primarily for cash wash.
(2). Total non-discretionary expenses:  $3,182.31 (the second blue block in the table)
Dine-out: $407.21. We eat out five times in January. The first two were due to a friend's visit. The last two were due to little D's birthday. The other one was going to a seafood buffet, which is a cheap place to have a lot of seafood. If we cook the same amount of seafood at home, we would end up paying more. So whenever, we want be stuffed with seafood, we go to this place.
Clothing items: $1,377.60. This is not our norm because I picked up a Hermes shawl for our anniversary. Without the shawl, our expenses are <$200.
Gifts: $217.72. We bought several clothing items for parents.  It also included three birthday gifts for Little D and M's friends.
Travel: $1,179.78. This included prepayments for lodging for our Disney trip in February and Utah trip in April.  This also includes $200 ticket change fees for our parents.
(3). Kids' expenses: $1,340.28.  (the lightest blue block in the table)
Kids entertainment: $297.28.  Mostly due to little D's birthday party. Little M had a playdate in the zoo, which cost about $25.
Kids' after-school activities: $1,043. Prepayment for little D's soccer club and aftercare programs in the spring semester.  $172 monthly piano lessons for D, $50 monthly dancing lessons for M, $75 monthly swimming club fee for D.
Summary:
Our total expense is $6745.41 in January with $2,848.49 likely recurring in February and $3896.92 one-time expenses.  This list does not include the following items that are automatically deducted from my pay check each month:
a. Monthly mortgage and escrow payments: $3,439.01
b. Monthly health and dental insurance payment for the whole family (pre-tax dollars): $814.67.
c. Monthly parking fees (pre-tax dollars): $70
For February, our expenses will be high again due to a planned trip to Disney and the visit of my sister-in-law's family.  We often spend more in the first half of the year because this is when we travel more and have more family visits.
Any suggestions on how to cut our expenses? Thank you so much for reading!