Last week, we had a road trip to Orlando-Miami. Left home on Tuesday and returned on Sunday night. In addition to our family of four, we also have parents, a sister and a nephew travelling with us. So, a party of eight!
Our trip expenses are detailed below. The upper part shows how much money we spent each day on the items listed in the first column. The lower part tells where the money went exactly.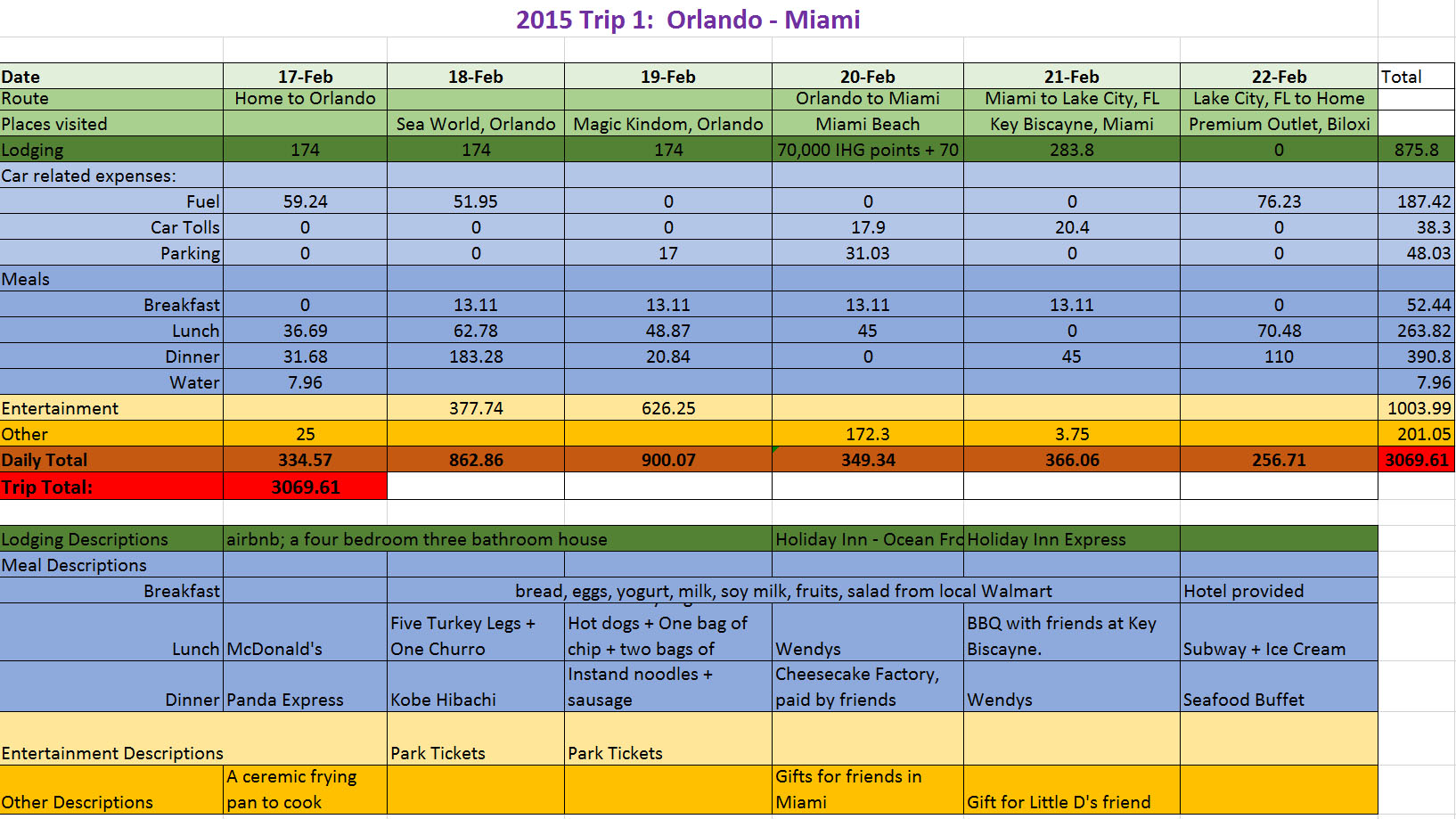 In total, we spent $3069.61, about $384 per person for a six-day trip.  The distribution of our expenses is shown in the pie chart below: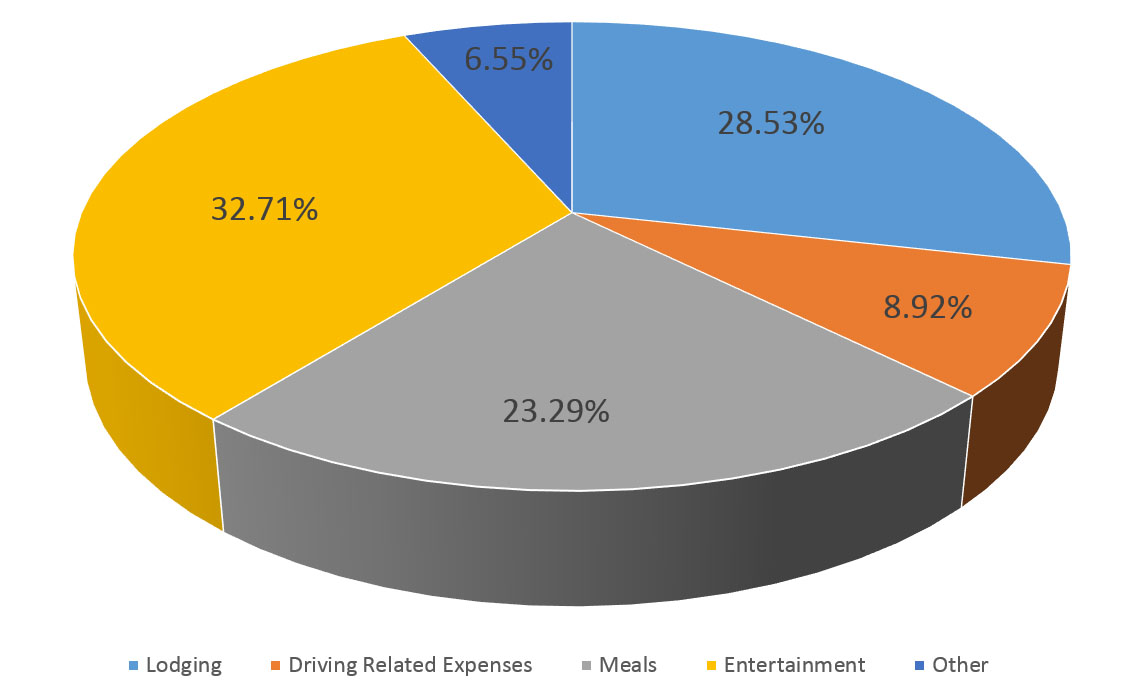 Entertainment (32.71%):
The park tickets alone account for 32.71% of the total expense. Well, I guess it is no news that we pay a premium for monopoly. We did try to get the most out of these expensive park tickets by doing the following:
(1). Use cashback portal to buy tickets:  5% for Sea World: 377.74*5%=$18.89
(2). Use cashback credit card to buy tickets: 2% for everything: 1003.99*2%=$20.08
(3). Get into the parks right at their opening time, which means 9am. And stay 'til we drop! We stayed till 7pm for Sea World and till 9:30pm for Orlando.
(4). Maximize the efficiency of attending the attractions:
For Sea World, check out the show times first and time the attractions accordingly.
For Magic Kingdom, get three fast passes online (you can do this 30 days in advance) for your must-do attractions. Before entering the park, download the mydisneyexperience app to your phone. It tells you the waiting time for each attraction and can help you time/plan the activities accordingly.
(5). Get into the Magic Kingdom before their price increase on March 1 (From $99 to $105). This was a pure luck. We didn't know the scheduled price increase for Disney parks.  It seems that they have a tradition to increase park prices in March (for those of you, early retirees, that have the luxury to time when to go to the parks).  Till March of 2016, every person (>=3 yrs old) needs a Benjamin Franklin and an Alexander Hamilton to get into the parks.  The park price has increased more than 4 times since its opening in 1971.  I miss those days when it only cost less than one Benjamin Franklin for both me and Mr. Luxuriously Frugal to have a magical date day in the Magic Kingdom.
Well, I guess we should not complain too much about Disney's price increases if the stock market has increased more than 25 times during the same period (see below). Want to hedge the risk of Disney's price increases? Invest!  🙂
Lodging (28.53%):
We used airbnb to book a four bedroom house in Orlando for $522 ($174 per night). This is a much better deal than booking three hotel rooms for three nights. The house is within walking distance to a Walmart, so my parents-in-law enjoyed touring the Walmart (they have been to Disney parks before and do not find any utility to go any more) while we were touring the parks.
For the oceanfront Holiday Inn at Miami Beach, it cost about $399 per room per night for the day we were there. I used 70,000 IHG points plus $70 dollars to book two rooms for that night. Not the most efficient way to use the points, but I really did not want to pay $800 for one night in Holiday Inn.
For the last night (Feb 22), we did not want to book a hotel in advance because we were not sure how late we would stay in Miami and therefore, how far we could drive on that day. But a casual check in the morning of that day suggested that all the hotels were fully booked between Orlando and Gainesville.  Worrying that there might be some events that could knock out all the rooms, we booked a hotel room in Lake City, FL. When we arrived the hotel that night at 10pm, a big sign showing "No Vacancy" is hanging on the door. We were lucky to have booked the room in the morning. Had we waited till the afternoon to book, we might end up driving till midnight to find a place to stay.  I asked the guy at the front desk for why all the hotels are booked out? He looked me as if I were from Mars. "You don't know? Daytona 500 and Tractor Pulls!" This might also explain why there were so many people in the parks at a time we thought should be a low season.
Meals (23.29%)
In total, we spent $715.02 for food-related items, about $5 per person per meal per day.  Being close to a Walmart significantly reduced our spending for breakfast ($52.44 in total).  One third of our lunch $ went to turkey legs.  Oh, that juicy, yummy, turkey leg!  
Had a dinner ($183.28) at the Kobe Steakhouse in Kissimmee. Good food and service! Would recommend if you like Japanese Hibachi.  Dinner in Miami, paid by our friends, was at Cheesecake factory in Dadeland Mall. This is the best Cheesecake factory I have ever tried.  But the best dinner during the whole trip was the instant noodle soup plus sausage plus spinach leaves.  Nothing beats a hot noodle soup after a freezing day in the parks (seriously, 30s and 40s in Orlando?).
Car related expenses (8.92%)
Florida Turpike is getting more expensive. But spending $19 to buy an hour of 8 people? I will pay it. Parking was crazy at the Miami beach hotel ($29 per night). Otherwise, really cannot complain much about spending less than $190 to transport 8 people from our home to Orlando-Miami and back.
Other (6.55%)
Got some nice liquid, alcohol and a Glamglow facial mask, for friends in Miami. Kids behaved incredibly well this time. The only item little D got is a magnet for his friend's birthday ($3.75).  Little A is enchanted by all the princesses and could not squeeze anything else into her mind. So she happily left the parks with just an enchanted mind.
Wait! After feeding seagulls at Key Biscayne's south beach, we all feel pretty enchanted and could not walk without twirling…
It was a magical trip!
Do you enjoy visiting South Florida? Thank you so much for reading!