Travel is nice, but catching up with work and kids' activities after travel is not fun.  I was also a bit worried that because of my recent lack of updating on the blog, my small reader group would become even smaller. Then wise Mr. LF comforted me, "Blogging is a marathon, not a 100 meter race. Just keep posting".
The luxuriously frugal household did quite some travel in February.  From Valentine's day till the end of February, we have only worked 7-8 days in total (yes, both of us together). Mr. LF went to Washington D.C. with his sister and nephew.  The whole family, eight of us, had a road trip to Orlando then Miami then Houston, a total of 2500+ miles.
As expected, our expenses in February are high because of family visits and travel.  In addition to the four of us, my in-laws and a nephew are with us for the entire February.  My sister-in-law is with us for 15 days. So the expenses are really for a household of 8, or 7.5.  For comparison, I also included the numbers from January. See the report for January here.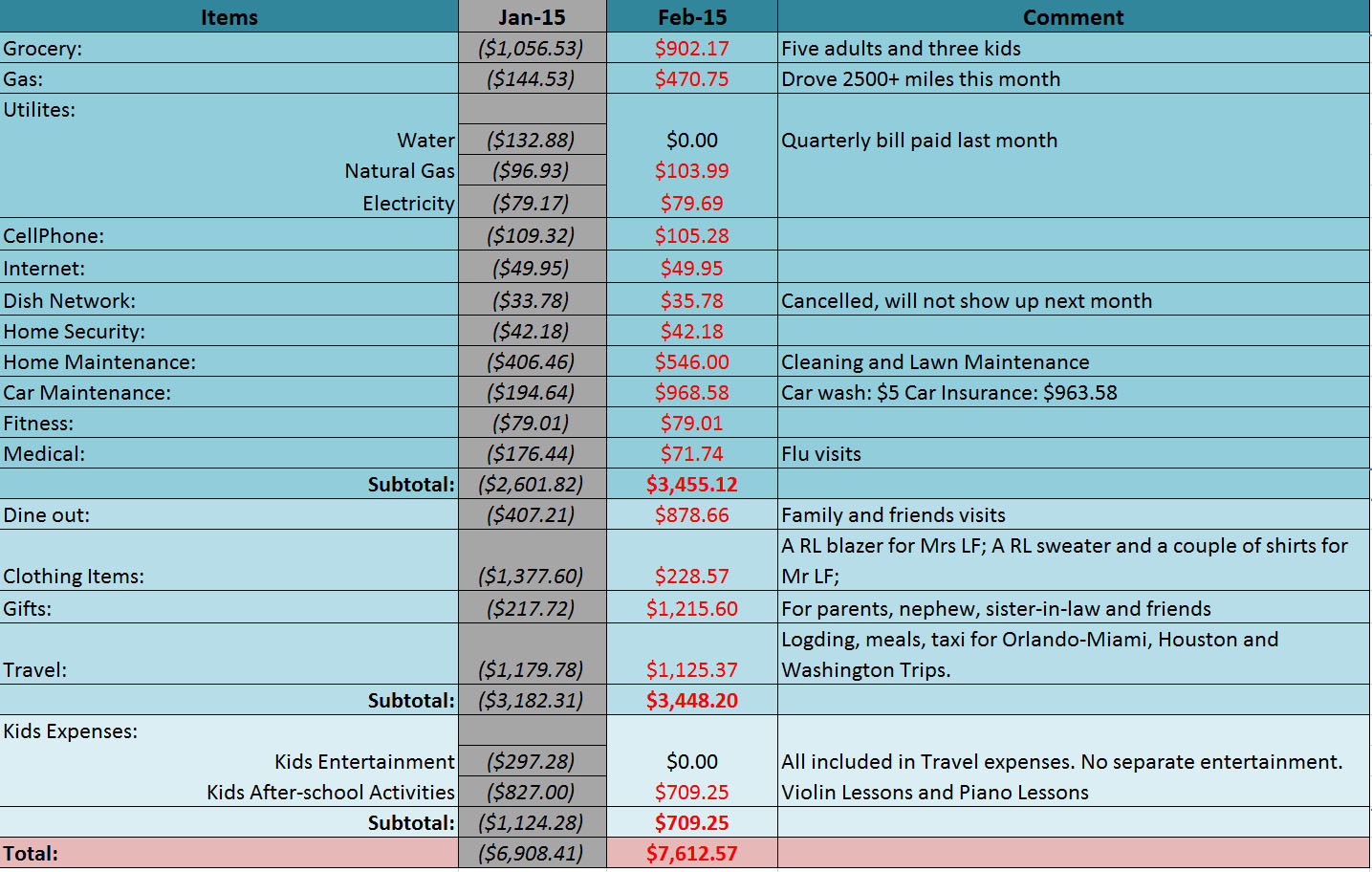 (1). Total non-discretionary expenses:  $3,455.12 (the first blue block in the table)
These are the expenses that we don't have much control of. Either because we are pre-committed to the payment (like Internet, cell phone plans, etc.) or we have to spend on them (like grocery, fitness, gas or utilities).
For February , I am not sure whether I can still call many of these expenses non-discretionary.
Improved:
Grocery expenses decreased a bit ($1056 to $902). This is not really an improvement because we dined out much more this month.
Dish Network: Subscription cancelled! This is the last bill!
Medical expenses decreased from $176 to $72.  Kids only attended school for at most 10 days this month, which significantly lowered their chance of getting sick.
Can do better:
Gas expense increased from $144 to $470, thanks to the road trips.
Car Maintenance is quite high this month due to a payment ($964) for car insurance. Other than that, we only spent $5 for a car wash.
Home maintenance increased from $406 to $546. I forgot to include cleaning and lawn maintenance costs in last month's expense report as I use a separate bank account to pay for these expenses. But they are now included. Our cleaning lady comes once a week for four hours ($25 per hour) and the yard man comes once every other week ($35 each time).  The numbers do not really add up, because I only record the expenses when the checks are actually deposited and debited from our account.  Our cleaning lady also buys cleaning supplies for us, which explains why the numbers do not necessarily end with a 5 or 0.
Forecast for next month:
March is a no travel month. It is also going to be a month with just four of us.  My brother and his fiance are coming to visit us this weekend, which should have minimum impact on expenses in this category. The household of RootofGood spent less than $1000 in February, which motivated me to try to have a <$1000 month in this category this year. March has the potential to be close to that goal. From $3,455 to $1000 is not an easy task, but hey,
'If you reach for the stars, you might not quite get one, but you won't end up with a handful of mud, either.' — Leo Burnett
(2). Total discretionary expenses:  $3,448.20 (the second blue block in the table)
Dine-out: $878.66. We ate out a lot in February, as we wanted our loved ones to try every favorite restaurant of ours in town.
Clothing items: $228.57.  Visited an outlet on our way home from Orlando.  Ralph Lauren was having some amazing sales.  Mrs. LF picked up her first orange blazer and first pair of long pants in polka dots. Mr. LF picked up a few shirts and a sweater. All at 70% off.
Gifts: $1,215.6. We spent a lot on gifts this month, for friends we visited on the road trips, and for my parents-in-law, sister-in-law, and nephew.
Travel: $1,125.37.  This includes lodging, meals, transportation, tickets, etc. for our travels. I use cash method when logging the expenses, which means the expenses are logged not at the time of occurrence, but at the time the expenses are actually debited from our bank or credit card accounts.  Please see this post for a complete expense coverage of our road trip to Orlando-Miami.
(3). Kids' expenses: $709.25.  (the lightest blue block in the table)
Kids entertainment: $0.  Not because they did not need to be entertained in this month, but because they have been entertained too much with all the exciting travels and family visits.
Kids' after-school activities: $709.25. Prepayment for D's violin lessons in the spring semester.  $172 monthly piano lessons for D, $50 monthly dancing lessons for M.
Summary:
Our total expense is $7612.57 in February, higher than January's $6,908.41 .  This list does not include the following items that are automatically deducted from my pay check each month:
a. Monthly mortgage and escrow payments: $3,439.01
b. Monthly health and dental insurance payment for the whole family (pre-tax dollars): $814.67.
c. Monthly parking fees (pre-tax dollars): $70
For March, our expenses should be lower. I have almost forgotten how a normal spending month would be as we have been travelling too much and had frequent family visits in the past few months.  Cannot wait to get the March numbers!
How did you do in February, any suggestions on how to cut our expenses? Thank you so much for reading!